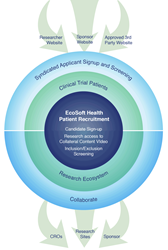 Patient recruitment issues frequently delay trials and in many cases are the reason a trial fails.
Wantagh, N.Y. (PRWEB) November 29, 2016
EcoSoft Health announces the release of their patient recruitment software for clinical trials. The EcoSoft 4.0 Patient Engagement software platform has been enhanced to serve the clinical trial patient recruitment, enrollment and retention needs of the pharmaceutical, biotech and medical device industries. The solution combines marketing automation with syndicated screening and patient management designed to increase the success rate of clinical trial patient recruitment.
The biggest challenge facing the pharmaceutical, biotech and medical device industries in bringing new products to market is clinical trial recruitment. Often hundreds of patients must be screened in order to identify a single qualified candidate. In the US, the pharmaceutical industry spends 40% of its clinical trial budget on patient recruitment. Even more costly to these industries, patient recruitment issues frequently delay trials and in many cases are the reason a trial fails. Annual losses to the pharmaceutical industry related to these factors are counted in the hundreds of millions of dollars.
"We were alerted to the patient recruitment, enrollment and retention challenges facing these industries and asked by a Contract Research Organization(CRO) if we could adapt our Healthcare Patient Acquisition solution to the needs of the patient recruitment market," says Jay Fruin, CEO of EcoSoft Health. "As our team studied those needs, we were thrilled to find that our technology is a perfect fit. From marketing automation and analysis, to screening and web-form syndication, our technology solves some of the most challenging issues limiting the success of clinical trials."
HOW IT WORKS
The HIPAA and ePHI compliant cloud-based software is deployed and branded to the sponsor or CRO's needs. Configuration and setup is quick, often taking only a few weeks. Qualifying questions are developed using either inclusion or exclusion criteria, with answers identified as acceptable or unacceptable.
Once developed, screening questions are set up as a protocol workflow. Workflows can use a simple one-step screening process or can be more complex multi-step screens. The solution then generates tailored web forms that the customer can syndicate throughout the research site network, to patient advocacy groups, patient networks and other non-traditional outlets.
As candidates complete these forms, their responses are evaluated and stored in the database. The automated scoring methodology can be simple or more complex in determining qualification. Qualified candidates can then be referred to research sites for further screening. Data for candidates deemed not qualified are retained in the system in the event of a follow-on trial.
Powerful analytics put critical patient recruitment and screening data at the study team's fingertips. Acquisition of quality information that enables making important decisions about the screening and recruiting process is accelerated and improved. Study teams can identify crucial screening factors that may be causing recruitment process delay or failure, and can drill down to specific screening questions and disqualified candidates.
Additional features of the patient recruitment solution:

Displays recruitment status in real-time across all investigators/sites (globally).
Tracks and analyzes recruitment campaign results for use in fine-tuning and optimization.
Delivers controlled retention communications including surveys, assessments and alerts.
EcoSoft Health will begin marketing its patient recruitment solutions to sponsors, CROs and research sites immediately.
For more information about EcoSoft Health, please email info(at)ecosofthealth(dot)com
About EcoSoft Health(https://www.ecosofthealth.com)
EcoSoft Health ™ offers HIPAA and ePHI compliant cloud-based software designed to manage your patient recruitment and screening needs. Based on our proprietary Patient Relationship Management technology, our software streamlines all facets of patient recruitment from marketing to candidate screening and performance data analysis. Our patient recruitment solution gives you the tools to gain study insight and increase the rate of patient on-boarding The EcoSoft Health ™ Patient Recruitment module is based on the company's Patient Relationship Management platform which offers health services organizations a wide range of patient engagement module from patient acquisition to intake, on-boarding and post-care surveys and assessments.