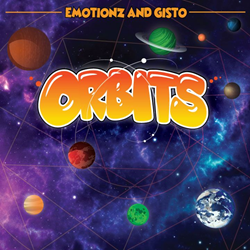 Vancouver, BC (PRWEB) November 28, 2016
Vancouver rapper Emotionz and artist/producer Gisto have released their new joint album "Orbits" on all digital platforms and service providers such as iTunes at https://itunes.apple.com/ca/album/orbits-ep/id1177602900?app=itunes&ign-mpt=uo%3D4. The group have released their video clip for their track online "Travel" featuring Moka Only formerly of Swollen Members and Dr. Oop at https://youtu.be/hgHqSsADj2Q.
Vancouver rapper/beatboxer Emotionz has been an integral part of the west coast music scene the last 15 years. Recording with such artists as DJ Quik, Stylust Beats, Souls of Mischief and many more has helped carve out his own unique style and sound. Early in his career, Emotionz moved to Los Angeles where he signed a record deal with Dreamworks Records and worked closely with the legendary DJ Quik. Since then, Emotionz has performed across the globe rapping, beatboxing and DJ'ing in over 20 countries, including an annual appearance on the Shambhala Music Festival for the past 17-years. Outside of his hectic tour schedule, Emotionz also gives back to the culture by teaching hip-hop workshops and is currently writing a hip-hop curriculum for the Vancouver school board to launch in 2017.
With a versatility that allows him to switch from reggae, dancehall, to trap, and hip-hop, GISTO is the next Canadian rising through the ranks. In just a couple years, the artist/producer has made a name for himself with his unique style and turned heads in the Fatherland of Reggae Music Jamaica., where his music video for "Invincible" on HYPE TV and he hosted the Top 10 video countdown on national television. GISTO has been featured on the PBS series "RoadTrip Nation", and was featured in Relix Magazine's 'On the Verge'. In 2010 GISTo was blessed with the opportunity to perform in front of thousands at the 2010 Winter Olympics in Vancouver.
GISTO's explosive live show has earned him slots on some of the biggest stages playing alongside Bedouin Soundclash, K' Naan, Michael Franti & Spearhead, K-OS, Femi Kuti, Hot Hot Heat, Randy Bachman, Lee Scratch Perry , Tanya Stevens, and Ghostface Killah.
###