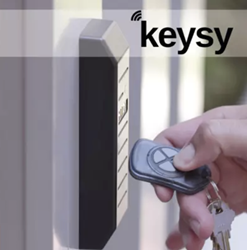 Why, in the name of security did we give mangement companies the authority to charge exorbitant fees for our own keys and, in many cases, even regulate who can have access to our own personal property and space?
San Diego, CA (PRWEB) November 30, 2016
Keysy, the world's first RFID key card and key fob duplicator and storage device, successfully completed first round funding and will enter full scale production in January 2017. Historically, copying key cards and key fobs has been a time-consuming, difficult, and expensive process. Keysy is a new technology developed by Tiny Labs that allows users to duplicate and store multiple key cards and key fobs on one device for the first time, much like users can store online passwords on a browser or password manager. Elliot Buller, creator of Keysy says, "Why, in the name of security, did we give management companies, the ability to charge exorbitant fees for our own keys and, in many cases, even regulate who can have access to our own personal property and space? Security and convenience shouldn't be an either or situation. You can do both."
The idea for Keysy developed when Buller tried to get a second RFID card for his apartment to share with his family. Despite it only costing dollars to make his landlord was charging over $100 for a duplicate. He was also not allowed to make a copy for his family. "From that moment on I started thinking about a solution," adds Buller. He had been working as an engineer at Qualcomm for the Office of the Chief Scientist on various projects including gesture recognition, embedded file systems, wireless telematics for automotive, and Bluetooth low energy solutions. Now a few years and ten revisions later and Keysy is the result.
In the past twenty years, access control has been transitioning from the an over 4,000 year old lock and key approach to one built on digital credentials in the form of key cards and key fobs. Despite improved facial recognition and fingerprint identification solutions the physical access control market remains dominated by RFID technology. As Stephanie Ardiley, product manager at HID Global says, "Legacy 125-kilohertz proximity technology is still in place at around 70% to 80% of all physical access control deployments in the U.S. and it will be a long time before that changes." A recent Research and Markets report illustrates the continued rapid growth of the RFID industry. It estimates the global RFID market will more than double from $16.2 billion in 2016 to $38.0 billion in 2021. And yet many feel the convenience of the technology has lagged behind. As Allen McAfee, vice president of engineering at Robo3D says, "How many of us have wondered why is it so time consuming and expensive to simply make a copy of your digital key card or key fob? Keysy is such a smart, simple and yet technically intricate solution."
Some believe the desire for convenience paired with the maturing market makes now the right moment for Keysy. Nathaniel Berman from Housely writes,"From our perspective, the manufacture of this specific product is coming at precisely the right time in history. While we all enjoy the benefits of advanced smart products, something as simple as a lost key can turn into an expensive and time delaying venture." But Buller emphasizes that it is not only about the convenience factor. He says, "Once someone stores their digital credentials on the device it is actually an even more secure solution because it eliminates RFID skimming and any need for RFID blocking solutions."