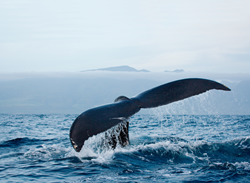 We pride ourselves on our truly one-of-a-kind offerings that allow guests to interact with some of nature's most magnificent creatures first-hand. -- Owen Perry, co-owner and president of The Villa Group
Islands of Loreto, Baja California Sur, Mexico (PRWEB) November 28, 2016
Whale watching season is right around the corner and Villa del Palmar at the Islands of Loreto is offering travelers the opportunity to experience one of the most incredible and intimate wildlife encounters on the planet through a special Whale Watching Adventure package.
With this unique package, adventure-seeking guests can immerse themselves into the beauty and wonder that is Loreto for only $542 USD. The package includes a four-night, five-day stay in a deluxe studio suite, a day full of adventure at the Islands of Loreto, a $25 USD coupon to the Sabila spa, and one free hour of kayaking and paddle boarding in the crystal clear waters of Danzante Bay.
The Loreto National Marine Park is a feast for the senses and the sciences. Since the formation of the Loreto National Marine Park, UNESCO has recognized these islands and all the islands in the Gulf of California (Sea of Cortez) as a World Heritage Site. A trip to the Islands of Loreto offers an experience unlike anywhere else in the world due to the spectacular concentration of diverse flora and fauna in an area that Jacques Cousteau once referred to as "The Aquarium of the World." The five islands of Loreto creates the Loreto Bay national Marine park a sanctuary for more than 1,000 species of marine life, offering exceptional opportunities for viewing several species of whales, dolphins, sea lions, manta rays, sea turtles and a spectacular array of tropical fish.
You will have encounters with the world's largest mammal to have ever lived on Earth right in the Loreto Bay National Marine Park with the resort's Sea of Cortez Tour, the endangered Blue Whale. Also, while the Gray Whale is the most common whale spotted, eight other whale species that can be seen around the Islands of Loreto from late December to mid-March. Every year, these gentle giants travel to the Loreto Marine Reserve to calve, mate and feed on the abundant krill in these warm, crystalline waters. Guests can look for Fin, Humpback, Orca, Pilot and Sei Whales that also frolic and feed here. Many of these whales make this 5,000-mile migration annually and are comfortable enough with whale watching boats.
Offered through Danzante Tours (the resort's in-house tour agency), guests can choose a four-hour island tour with whale watching included to Danzante and Del Carmen islands aboard a comfortable APEX boat. The excursion includes a picnic on the beach, with optional hiking, snorkeling and leisure time on the islands, as well as an expert guide who can describe the surrounding habitat and point out exciting sightings of dolphins, sea lions, exotic fish, and of course, whales.
Whale watching season in Loreto runs from January to March, though whales are often closest to shore and the most active in February. Guests are recommended to bring comfortable clothes, sneakers, a light jacket, glasses, a hat, sunscreen, and mostly importantly, a camera to capture amazing memories, for both excursions.
Booking for the Whale Watching Adventure package is open now until February 28, 2017 and travel is valid from January 3 to March 31, 2017, when the whales are often closest to shore and most active.
"Whale watching is one of our most treasured resort attractions and is wildly popular among our guests", said Owen Perry, co-owner and president of The Villa Group. "At Villa del Palmar at the Islands of Loreto, visitors can do more than just admire the natural beauty and seclusion of Loreto. We pride ourselves on our truly one-of-a-kind offerings that allow guests to interact with some of nature's most magnificent creatures first-hand."
Whale watching is one of many captivating outdoor activities available for guests to delight in while visiting Villa del Palmar at the Islands of Loreto. Guests can explore these flourishing and protected ocean habitats unique to the Baja region through a variety of sea excursions and tours such as Hooka diving, SCUBA diving, twilight LED paddle boarding, glass-bottomed kayaking, sport fishing and more.
A brief two-hour flight from Los Angeles International Airport (LAX) directly to Loreto International Airport, the Islands of Loreto's proximity to the United States makes traveling safe and convenient for all visitors. Additionally, guests coming from San Diego can depart from the Tijuana Airport (TIJ) via the new Cross Border Xpress, or CBX. From there, it is a quick 1 hour and 45 minute flight to Loreto International Airport.
For resort reservations or additional information, please contact the resort at reservaciones.vdpl(at)vgloreto.com or call 800.790.4187. To learn more about Villa del Palmar, contact your preferred travel professional, visit http://www.villadelpalmarloreto.com or call the number above.
About Villa del Palmar at the Islands of Loreto: Baja's First Million Star Resort
Villa del Palmar at The Islands of Loreto is a luxury destination resort on the Sea of Cortez, off the eastern coast of the Baja peninsula overlooking Danzante Island (one of five in the region). Flanked by the rugged Sierra de la Giganta range, the Villa del Palmar is the first and only resort to occupy one of the Gulf of California's last virgin coastlines. The resort features 181 new, spacious, beautifully appointed Deluxe Ocean View, one, two and three bedroom Suites with terraces and stunning ocean and mountain views, three restaurants offering gourmet dining, an attentive English-speaking staff, five swimming pools, a 39,000 square-foot Sábila Spa and Wellness Center, two tennis courts, beautiful beaches, a private beachfront Danzante Bungalow and a mild and warm climate year-round. The 7,000-yard Rees Jones-designed Danzante Bay golf course will offer a challenging, yet friendly course that works with the natural beauty and serenity of the surrounding environment.
Guests can enjoy PADI-certified SCUBA diving lessons and snorkeling tours in the protected indigo waters that explorer Jacques Cousteau once dubbed the "Aquarium of the World." Outdoor adventurers can also experience tours of the nearby Coronado, Danzante and Del Carmen Islands atop an inflatable APEX boat, as well as swimming, world-class fishing aboard the "Mad Dash" tournament boat, paddle boarding, kayaking, whale watching and mountain biking. With shuttle service priced at $5 per person round trip, guests can explore the historic town at the Islands of Loreto and visit the 1697 mission that made the town famous. The area is also known for its wildlife, including the 900 species of fish off the coast and in an area that has been designated a UNESCO World Heritage Site and the second largest National Marine Park. Hotel perks include a spa and fitness center, massages, salsa dance lessons and movie nights for children. Travelers can take a short flight from LAX on Alaska Airlines or from Calgary, Canada aboard WestJet, Canada's most-preferred airline, to the Islands of Loreto.
The resort is also currently named the 16th best resort in Mexico by Trip Advisor. In 2015, Travel Weekly magazine recognized the Islands of Loreto with a 2015 Silver Magellan Award in the Adventure Destination category. Villa del Palmar at the Islands of Loreto was also recognized as Mexico's Leading Beach Resort and Mexico & Central America's Leading Resort in the 23rd annual World Travel Awards.
For additional information on events, amenities, or availability call 800.790.4187 or visit http://www.villadelpalmarloreto.com. Stay up-to-date on the latest happenings by finding us on Facebook (https://www.facebook.com/villadelpalmarattheislandsofloreto/) or Instagram, Pinterest and Twitter as @VilladelPalmarL.
###