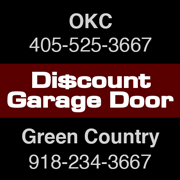 Oklahoma (PRWEB) November 29, 2016
As the cold weather sets in and the chances for inclement weather rise, the need for proper garage door functionality increases substantially. The garage has become the most common entryway into a home for many families because of the practicality and security it provides. For this reason, Discount Garage Door has started encouraging homeowners to begin winterizing their garage door to ensure proper functionality during the holiday season.
Discount Garage Door is recommending Oklahomans prepare for the coming cold weather now to help lessen the problems that commonly affect garage doors during the winter. By helping homeowners perform routine garage door maintenance and winterization now, Discount Garage Door hopes to help decrease the impact the cold weather has during the season. Depending on the garage door, winterization could be as simple as replacing the weatherstripping or applying new silicone-based lubricant.
Because many of the components within a garage door system are metal they are particularly sensitive to cold weather. When these metal parts are exposed to cold temperatures the material will often contract decreasing how effectively the garage door moves. This can affect the springs as well, which often break during the winter months.
Homeowners that are experiencing garage door problems can be sure that Discount Garage Door has their best interests in mind. Whether routine maintenance is needed or a homeowner needs guidance on how to best winterize their garage door system, the expert technicians at Discount Garage Door are always ready to help.
Locally owned and operated since 2001, Discount Garage Door LLC is a Family owned company that is dedicated to quality, affordability and customer service. We specialize in discount garage doors, garage door repair, opener repair, springs, new garage door installations and garage door openers. We are a factory authorized retailer and service all the major brands.