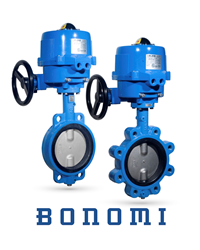 single source reliability and accountability
CHARLOTTE, N.C. (PRWEB) November 29, 2016
Bonomi North America is introducing a new series of NSF-Certified butterfly valves with factory-installed electric or pneumatic actuators for potable water applications with high flow requirements.
The new N500 Series wafer and N501 lug body valves feature ductile iron body construction with EDPM rubber seats. They are available with stainless steel disc (N500S/N501S) or nylon-coated disc (N500N/N501N). All are approved to NSF /ANSI 61,372. Sizes range from 2 inches through 12 inches.
Their longer-lasting two-piece stem is designed for critical automation applications. They are rated for 200 PSI working pressure with high flow coefficient (Cv). All Bonomi butterfly valves are tested to 100 percent of their rated pressure before shipping.
The new Bonomi NSF butterfly valves come as preassembled direct-mount packages with the company's Valbia-brand actuators for optimal performance, long life and quiet operation. Actuator choices include spring-return, aluminum-body pneumatic actuators, UL-listed VB Series electric actuators with thermoplastic housing or VBM Series electric actuators with metal enclosures for industrial or commercial applications. VBM Series actuators are UL and CSA listed.
Bonomi is one of few fully integrated manufacturers of both electric and pneumatic actuators and direct mount butterfly valves, assuring single-source reliability and accountability.
For more information on Bonomi NSF butterfly valve packages or other products, contact Bonomi North America at (704) 412-9031 or visit http://www.bonominorthamerica.com.
About Bonomi North America
Bonomi North America has served the U.S. and Canada since 2003 and is part of the Bonomi Group of Brescia, Italy. Bonomi Group brands include Rubinetterie Bresciane Bonomi (RB) brass ball valves and check valves; Valpres carbon and stainless steel ball valves; and Valbia pneumatic and electric industrial actuators. Bonomi North America maintains an extensive distribution network for these products from its headquarters in Charlotte, N.C. and a facility in Oakville, Ontario, Canada.
[end]