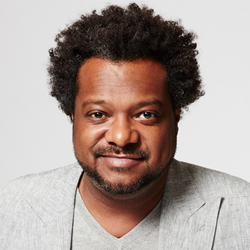 "As the gateway to Latin America and a national leader in startup activity, Miami has a unique set of advantages and challenges that we'll be addressing at our December 12th event," said Karen Salama, Founder and CEO of High-Potential Ventures LLC, parent
Miami, Florida (PRWEB) November 29, 2016
BRAND U Events announced today that it will bring its one-day powerhouse symposium to Miami on Monday, December 12. The nationally renowned talent accelerator, which has already launched in 11 cities, from NYC to Silicon Valley, will be hosted by marketing icon B. Bonin Bough. Bough is renowned as the host of LeBron James' hit show Cleveland Hustles on CNBC about entrepreneurship and as the author of the recently released book "Txt Me", which explores the increasing impact mobile devices have on individuals, companies and society.
"Being successful in business in is no different than being successful as an athlete, you need to train," exclaims Bough. "I'm excited to be lead the BRAND U Events program in Miami on December 12th and am looking forward to meeting professionals in the Magic City and sharing some of the important lessons I've learned."
Scheduled to take place at Crispin Porter + Bogusky (3390 Mary St, Ste. 300, Miami, FL, 33133), BRAND U Events is designed for entrepreneurs, intrapreneurs, brands, start ups and agency executives, or anyone seeking to catapult their career and brand. The program will offer market specific content and access to world-class speakers, coaches and thought-leaders while providing attendees with valuable tools to create their own professional roadmap. To register for the event, go to http://brandu.events/upcoming-miami-events/.
The BRAND U Events program is designed to cultivate attendees' strengths and resources, with key topics that include skills assessment, how to build a growth network, and how to empower your digital voice. Other highlights include panel discussions on innovation and diversity & multiculturalism; guidance and opportunities to connect one-on-one with coaches; a cocktail and networking portion in the evening; plus a luncheon for sponsors and partners on Tuesday, December 13th.
"As the gateway to Latin America and a national leader in startup activity, Miami has a unique set of advantages and challenges that we'll be addressing at our December 12th event," said Karen Salama, Founder and CEO of High-Potential Ventures LLC, parent company of BRAND U Events. "Our goal is to elevate Miami professionals in their businesses and careers in 2017 and beyond."
In addition to Bonin Bough and Karen Salama, the one-day event features the following speakers and coaches:
Speakers:
Liz Blacker Executive Vice President, Multicultural Strategy & Sales, iHeartMedia, Inc.
Cristy Clavijo-Kish Chief Development Officer & Partner, Hispanicize Media Group & DiMe Media Network
Renato de Paula CEO Latin America at MEC
Ernesto Echeverri Director, Marketing USA, Canada & Caribbean at LATAM Airlines Group
Salvi Pascual Executive Director at Apretaste, Speaker and Activist for Human Rights in Cuba
Chuck Porter Co-Founder and Chairman, CP+B
Melissa Proctor CMO, Atlanta Hawks
Vinicius Reis CEO and partner, CP+B Miami and Brazil
Luciana Rodrigues Vice President Innovations Latin America, Turner
Coaches:
Brant Breen Founder and CEO, Qnary
John Futterknecht President, Optimum Associates
John Hill TechStars
Jennifer Selke Co-Founder, WorkStrengths
Dushka Zapata Executive Equity
Confirmed partners for the BRAND U Events in Miami include CP+B, MMA Latam (Mobile Marketing Association), and It's Sugar!, which will provide delicious candy and sweets. For more information on partnering with BRAND U Events, contact Lauren.Taylor(at)brandu(dot)events.
Custom sponsorship opportunities for the BRAND U Events symposium and the private BRAND U Events luncheon are still available. Contact us via the E-Mail Us Link to find out more.
About BRAND U Events
BRAND U Events is a talent accelerator dedicated to transforming professional potential into career achievement, revolutionizing career trajectory, and accelerating one's roadmap to success. From world-class coaching to dynamic speakers, BRAND U Events provides unique, personalized programs designed to catapult careers. Learn more about BRAND U Events by visiting us http://www.brandu.events or follow us on Twitter @BRANDUEvents, on Facebook at BRANDUEvents and LinkedIn at BRAND U Events.
About B. Bonin Bough
B. Bonin Bough is the host of LeBron James' hit show "Cleveland Hustles" on CNBC about entrepreneurship and the author of the newly release book "Txt Me," which explores the increasing impact mobile devices have on individuals, companies and society. He is also Chief Media & eCommerce Officer for one of the largest snack food companies in the world where he is responsible for building the company's billion-dollar eCommerce business. A leader among the youngest C-level executives within Fortune 50 today, Bough is highly regarded as one of the industry's most influential marketers with his campaigns successfully growing some of the globe's most prominent brands. Bough's business savvy has earned him numerous accolades including an induction into the Advertising Hall of Fame, being named one of Fast Company's most creative people, and earning a spot on Fortune's 40 Under 40 list. In addition, he is a successful investor in startups and small businesses and created the very first corporate accelerator programs that have become instrumental in linking startups with other big brands to help them potentially realize their billion-dollar ambitions.