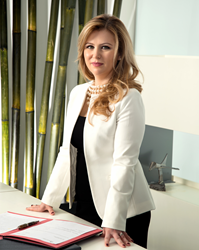 Irvine, Calif. (PRWEB) November 29, 2016
Ayşe Nil Sarıgöllü, CEO of Cardtek, a leading payment technologies provider, was selected as the winner of a Silver Stevie® Award in the Female Executive of the Year, Business Products, 11-2,500 Employees category in the 13th annual Stevie Awards for Women in Business. Ayşe Sarıgöllü was honored for her strategic leadership at Cardtek, the fastest growing technology company in EMEA, and is recognized internationally as an innovative leader in the global mobile payments technology industry.
The Stevie Awards for Women in Business are the world's top honors for female entrepreneurs, executives, employees and the organizations they run. All individuals and organizations worldwide are eligible to submit nominations – public and private, for-profit and non-profit, large and small. The 2016 awards received entries from 31 nations and territories. More than 1,400 nominations from organizations of all sizes and in virtually every industry were submitted this year for consideration in more than 90 categories.
Ayşe Sarıgöllü, who has served as Cardtek Group CEO since 2009, guides a team of 400 employees offering innovative end-to-end payment solutions to more than 150 clients in 25 countries. The company has introduced more than 20 "Global First" projects, from the first contactless credit card in 2006, to the first contactless prepaid card for public transportation in India in 2015.
Ayşe Nil Sarıgöllü joined Cardtek in 2007 as general manager and has more than 18 years of experience leading global expansions and partnerships. She has been featured among the "Top 100 Digital Influencers" list in Digitalage.
"It's an honor to be awarded and recognized among such a distinguished group of female entrepreneurs," said Ayşe Sarıgöllü. "It's also a true and lasting testament to the hard work of my team to turn Cardtek into a global player in the payments technology industry."
Details about the Stevie Awards for Women in Business and the list of winners in all categories are available at http://stevieawards.com/Women.
"Each year we think the quality of achievements portrayed in Stevie-winning nominations couldn't possibly get any better, and each year the amazing women who are recognized in this program prove us wrong," said Michael Gallagher, Stevie Awards founder and president. "We are thrilled and humbled to be able to recognize so many outstanding women in the Stevie Awards for Women in Business, and to share the stories of their achievement with the world."
About Cardtek
Established in 2001, Cardtek provides innovative end-to-end payment solutions to more than 150 customers in 25 countries, including financial institutions, processors, telecom operators, personalization bureaus, retailers, terminal and card vendors, and public transportation authorities.
With 15 years of experience in EMV and well established solutions such as Card Management, Transaction Management, Fraud and Risk Management, Payment Processing Services and Hardware Solutions, Cardtek offers peace of mind to its clients. Cardtek is also a leading player in emerging mobile payment, open-loop transit and wearable payment technologies.
Cardtek's award-winning scalable and robust solutions works flawlessly with multiple technologies and platforms, providing full flexibility as well as providing a complete set of fast and secure payment solutions that eliminate the need for working with multiple vendors, while achieving the highest compliance standards. For more information, please visit Cardtek.com.
About The Stevie Awards
Stevie Awards are conferred in seven programs: the Asia-Pacific Stevie Awards, the German Stevie Awards, The American Business Awards, The International Business Awards, the Stevie Awards for Great Employers, the Stevie Awards for Women in Business and the Stevie Awards for Sales & Customer Service. Stevie Awards competitions receive more than 10,000 entries each year from organizations in more than 60 nations. Honoring organizations of all types and sizes and the people behind them, the Stevies recognize outstanding performances in the workplace worldwide. Learn more about the Stevie Awards at http://www.StevieAwards.com.
###