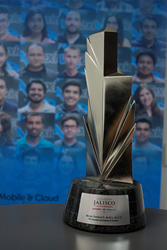 "It is an honor to be recognized by the State of Jalisco, through JalTrade, as a Services Exporter Company," said iTexico COO and Co-Founder Guillermo Ortega
Austin, TX (PRWEB) November 29, 2016
Global software technology company iTexico was awarded the "Galardon Jalisco a la Exportacion," an honor bestowed upon enterprises that promote the Mexican state of Jalisco as a center of business.
The governor of the state of Jalisco, Aristoteles Sandoval Diaz, lauded iTexico for its commitment to positioning significant resources in Guadalajara, the largest city in Jalisco. iTexico, headquartered in Austin, TX, has steadily grown its presence in Guadalajara as part of its "nearshoring" model, which employs highly talented Mexican resources to develop and deliver software to its clients in the United States.
"It is an honor to be recognized by the State of Jalisco, through JalTrade, as a Services Exporter Company," said iTexico COO and Co-Founder Guillermo Ortega. "We credit this big achievement to the commitment, quality and dedication from our talented team, that help us to promote the Nearshoring model in the North American market, and help us elevate the name of Mexico and Jalisco through world-class software development services."
iTexico's rapid growth has earned it recognition as one of Austin's 50 fastest-growing companies, and one of the U.S.'s 5,000 fastest growing firms, as reflected by being named to Inc 5000 list in both 2015 and 2016. Its investment in Guadalajara, and Jalisco, as a location for its significant operations has helped drive this growth, Ortega noted.
"The talent pool in Jalisco is enormous, and the high-tech ecosystem in the state continues to earn notice on the world technology scene," Ortega said. "Our Guadalajara operations are a big reason why we are able to compete directly with the best technology firms in the world."
During the award ceremony, Gov. Sandoval offered his thanks to companies like iTexico, which have supported the regions rise to become one of the five most prolific for technological innovation.
"Foreign investors keep looking at Jalisco, and that is why we have to give credit to those companies that found the answer locally and at the same time helped them compete with the outside world," Sandoval said. "That is why this [recognition] is so important, because it awards those whose commitment to exportation of resources has helped us grow as a whole, together."
About iTexico
iTexico is devoted to delivering leading-edge, user-engaging applications to its clients, as well as its leadership in providing innovative nearshore solutions. With its headquarters in Austin, TX, as well as a wholly-owned software development and delivery center in Guadalajara, Mexico, iTexico has experienced significant growth every year and maintains strong business partnerships with many large-scale tech companies, including Appcelerator, Kofax, IBM, Xamarin, and Microsoft. iTexico employs more than 140+ professionally trained mobile and cloud developers and provides dedicated teams for mobile and cloud development, testing, and support.