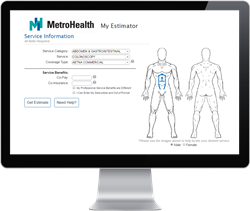 PMMC's expertise was critical in making the system appear simple while the financial calculations occur in the background.
Charlotte, NC (PRWEB) November 29, 2016
PMMC, a leading revenue cycle management company, launched online patient estimates for The MetroHealth System to provide its patients with next-level price transparency.
The MetroHealth System, a 762 bed hospital in Cleveland, OH has been providing patient estimates for years, but now offers estimates of services on its website with an easy to use, self-service estimator solution.
"We want to encourage price shopping and remove financial barriers because we believe we can bring value to patients if they come to us for care," said Donna Graham, Senior Director of Revenue Cycle at MetroHealth. "PMMC's expertise was critical in making the system appear simple while the financial calculations occur in the background."
MetroHealth began its initiative to increase connectivity to patients in 2014 with the goal of providing patients and community members the ability to obtain an accurate out of pocket estimate for healthcare services. With online estimates, patients simply enter their co-pay and co-insurance amount to create an accurate cost estimate.
MetroHealth System is a leader in patient communications and is the nation's first adopter of HFMA's Patient Financial Communications Best Practices, for implementing best practices, such as providing convenient access to information about financial assistance programs and taking steps to ensure that patients understand their financial responsibility for care.
The next phase of the project will be to increase visibility to the online estimates by training staff to communicate the option more frequently to current and prospective patients. MetroHealth is also closely monitoring House Bill 52 in Ohio, which may require hospitals to provide the actual insurance payment along with the estimated out-of-pocket expenses.
MetroHealth recently presented a case study session on navigating these price transparency requirements. The recording of that session is available here.
A Spanish version of the online estimate solution is in development and scheduled for release in 2017.
About PMMC
PMMC provides high value revenue cycle software and services to improve the financial performance of healthcare organizations. PMMC's unique combination of software with 30 years of revenue cycle expertise reveals greater financial accuracy and missed revenue opportunities in the areas of underpayments and denials, pricing transparency, and value-based reimbursement – resulting in a 10 to 1 client return on investment. Visit http://www.pmmconline.com for more information.