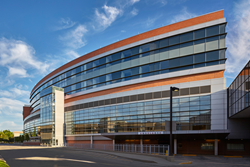 It is an honor to receive the Build Ohio award and be recognized by the AGC for completing this complex renovation in an operational hospital with the highest levels of patient safety, quality and customer satisfaction, said Melanie Townshend - Gilbane
Cleveland, Ohio (PRWEB) November 29, 2016
Leading construction services firm Gilbane Building Company has been selected as one of the winners of the prestigious 2016 Build Ohio Award. One of seven award winners, Gilbane was honored in the Renovation Over $10 Million category for the MetroHealth System Critical Care Pavilion Vertical Expansion project, which was completed in July 2016. Gilbane received its bronze and green marble Build Ohio award during the 24th annual Build Ohio Celebration earlier this month at the Hilton Columbus Downtown.
"It is an honor to receive the Build Ohio award and be recognized by the AGC for completing this complex renovation in an operational hospital with the highest levels of patient safety, quality and customer satisfaction," said Melanie Townshend, Senior Project Executive at Gilbane Building Company "I am very proud of our team and their continued commitment to project excellence throughout this challenging renovation."
Designed by CBLH Design, the Critical Care Pavilion (CCP) is one of the nation's most technologically advanced centers for emergency medicine, trauma and surgical care, and reflects MetroHealth's standing as Cleveland's highest-accredited trauma center. The project included the vertical expansion of two additional floors over existing active operating rooms and the active emergency department, with 85 new critical care rooms that are designed with maximum flexibility for the future. Patient rooms are used for intensive care, critical care, or surgery step down, while two of the rooms are equipped as Special Disease Containment Units, one of the few facilities in the country with this capability.
"From the start, the team was all about getting this project done. We didn't dwell on the barriers; we just focused on making it happen," said Walter Jones, Senior Vice President of Campus Transformation at MetroHealth
With the expansion occurring over existing operating rooms that remained operational throughout construction, the project team coordinated extensively with hospital staff. Throughout the duration of the project, there were 27,000 ambulance visits, 20,800 surgeries completed, and four life flights per day, all of which occurred without disruption. The team completed 105 Methods of Procedure (MOP) to proactively coordinate every shutdown with hospital employees and patient care was never compromised.
The Associated General Contractors of Ohio hosts Build Ohio annually to celebrate the commercial construction industry and recognize contractors for excellence in construction. A panel of retired construction professionals selected the Build Ohio winners based on the following criteria: excellence in client service, meeting the challenge of a difficult job, excellence in project management, and innovations in construction techniques and materials.
About Gilbane Building Company
Gilbane provides a full slate of construction and facilities-related services – from pre-construction planning and integrated consulting capabilities to comprehensive construction management, close-out and facility management services – for clients across various markets. Founded in 1873 and still a privately held, family-owned company, Gilbane has more than 50 office locations around the world. For more information, visit http://www.gilbaneco.com.
Gilbane has been providing construction management services in Ohio Since 1959 and has served clients including Cleveland Clinic, MetroHealth System, University Hospitals, Cleveland State University, Kent State University, Cleveland Indians, Lakeland Community College, The Andersons, Cuyahoga Community College, Goodyear Tire & Rubber Company, Cleveland Museum of Art, Case Western Reserve University and Cleveland Museum of Natural History. Gilbane is an active participant in the ACE Mentor Program, Rebuilding Together, Providence House and Greater Cleveland Partnership.