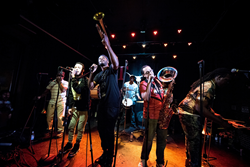 Fairfield, CT (PRWEB) November 28, 2016
What does the lead guitarist of the Dave Matthews Band, a seven-foot clown and the biggest indoor market in Fairfield have in common? They, and more, can be found at the Fairfield Theatre Company campus this weekend.
Tim Reynolds of the Dave Matthews Band will perform a solo and sold-out show on Thursday, Dec. 1 at StageOne. This is his eighth StageOne performance and fans can expect transcendent electric guitar and intricate acoustic picking. That same night across the lot, Rebirth Brass Band performs in The Warehouse as part of the SpreadMusicNow Concert Series. As said by the New York Times, "Rebirth can be precise whenever it wants to, but it's more like a party than a machine. It's a working model of the New Orleans musical ethos: as long as everybody knows what they're doing, anyone can cut loose."
The following night bodes another double-header as local super-group Band Together brings a benefit concert featuring Lucy Kaplansky, Fuzz and Carrie from Caravan of Thieves, and John Torres of Oh, Cassius! to StageOne. This is a benefit concert to support the Band Together Fund in partnership with WPKN and SpreadMusicNow.
The world's most renowned Dobro player and 14-time Grammy-award winner Jerry Douglas will be playing a rare and intimate solo show at The Warehouse. Jerry Douglas is a connoisseur's musician and a man of many musical borders; he takes you to the frontier of bluegrass, country, blues and folk without ever breaking a sweat. The phrase living legend may be overused, but in the case of the master Dobro guitarist Jerry Douglas, it's also an understatement. Roots-music enthusiasts take notice; this is a must-see performance on Friday, Dec. 2.
Saturday, Dec. 3 will be filled with holiday cheer as The New Paradigm Theatre presents two performances of A Broadway Holiday Show on StageOne. They will perform a NYC-esque customized holiday performance featuring dancers, singers and instrumentalists. Following that, Fairfield natives and hometown heroes, The Alternate Routes, make their annual return to The Warehouse. The Routes are guitar rockers who write anthemic rock 'n' roll songs with alluring melodies as well as some lighter, folky Americana tunes. Their folk-tinged rock storytelling has carried them around the country, and landed them a performance on Craig Ferguson, and a song featured in NBC's coverage of the Olympics.
Another annual event occurs on Sunday morning, as the PopShop brings local vendors from all walks of creativity to The Warehouse. There will be jewelry, gifts, clothing and more to peruse and purchase. With food trucks and more, the PopShop is a holiday staple. For those needing to warm up, The Warehouse bar will be up and running with holiday drink specials.
Later that evening at 8 p.m. a seven-foot clown, whose show is known as 'Puddles Pity Party,' brings both a hilarious and captivating concert experience to The Warehouse stage. As said by the Boston Globe, "It seems like a parody. But when Puddles opens his mouth to sing, it's beautiful. Operatic." It was Halloween 2013 when Puddles teamed up with Scott Bradlee's Postmodern Jukebox to record an epic version of Lorde's hit song 'Royals,' which instantly went viral on YouTube, having received over 15 million views so far. The New York Times claims, "His special effect is a textured voice laced with melancholy…what makes him transcend the trope is his vulnerability."
More information, samples of the music, tickets to these shows and more are available at fairfieldtheatre.org.
About Fairfield Theatre Company:
Fairfield Theatre Company is a highly-acclaimed nonprofit performing arts organization located in the heart of downtown Fairfield. FTC presents over 300 concerts and events each year featuring outstanding national talent at FTC's StageOne and at The Warehouse. FTC's venues are widely recognized as being the best places to see live performances in the region. FTC's mission is to connect and enrich our community through the transforming power of the arts. For more information, go to fairfieldtheatre.org.