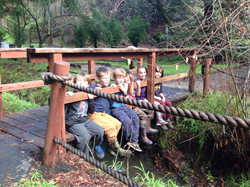 So many kids end up sitting inside during their winter break from school. This program engages children with nature's winter wonders in creative and fun ways. ~ Heather Butler, WOLF School Director
Santa Cruz, CA (PRWEB) November 29, 2016
Web of Life Field (WOLF) School invites all Monterey Bay area K-6th graders to Winter Nature Day Camp January 9-13, 2017 for a week of fun, exploration, and learning in the redwoods at Camp Monte Toyon in Aptos, CA. Registration is open—sign up for one day or attend the full week!
Every day holds a new adventure at Winter Nature Day Camp. Campers will discover the hidden world of the redwoods and its creatures, explore science and nature's wonders, and create amazing art through WOLF School's engaging themes and activities, which include: amazing animals, geocaching, insect adventures, silly salamanders, plant power, California history discoveries, geology rocks!, rain and sun trail walks, music, nature arts and crafts, cooperative games, and storytelling.
Winter Nature Day Camp will be held at WOLF School's Santa Cruz-area campus—Camp Monte Toyon in Aptos, CA. Secluded amongst central California's coastal redwoods, just inland from the shores of Monterey Bay and south of Santa Cruz, Camp Monte Toyon is an engaging camp setting offering miles of beautiful hiking trails, with nearby Aptos Creek and an abundance of wildlife.
WOLF School's Winter Nature Day Camp is open to K-6th graders, and will take place from 8:30 a.m. to 4:30 p.m. Monday through Friday, the week of January 9-13, 2017. Early drop-off and late pick-up will be made available to accommodate parent/guardian's schedules. Camp cost is $50 per day for early registration, open through December 9, 2016, and $55 per day for registration after December 9, 2016, and for same day drop-in. Day campers can attend one day or join for the full week.
WOLF School is also excited to announce its 2017 summer camps, including Summer Residential Nature Camp held June 19-23, 2017, and DIY Family Camp held the weekends of July 13-16, July 20-23, and July 27-30, 2017. Both camps will take place at WOLF School's stunning Little Basin Cabins and Campground campus, part of Big Basin Redwoods State Park in the Santa Cruz Mountains.
Find WOLF School summer camp information and registration materials at wolfschool.org. Questions or to learn about WOLF School programs, call (831) 338-8018 or email admin(at)wolfschool(dot)org.
Web of Life Field (WOLF) School is a nonprofit organization providing outdoor education and team building programs to K-12 students and their teachers, and fun camp experiences for the community. WOLF School's educational nature camps inspire kids to experience the outdoors, connect to nature, build healthy relationships, and gain awareness of their impact on environment and community—all in a fun camp setting led by our knowledgeable, friendly, and energetic naturalists. Operating at multiple camps throughout California and with a mission of "building respect, appreciation and stewardship within the web of life," WOLF School proudly serves 3,000 students each year. WOLF School is the educational component of nonprofit United Camps, Conferences and Retreats (UCCR).