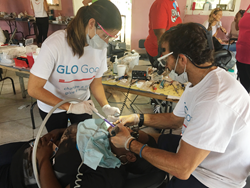 NEW YORK, NY (PRWEB) November 29, 2016
GLO Science, the global premiere aesthetic oral health company, will allocate 20% of its online earnings to The GLO Good Foundation beginning on Tuesday November 29, "Giving Tuesday," to provide oral health care, education and tools to adults and children in need in order to give the gift of a heathy smile.
The GLO Good Foundation, the philanthropic arm of GLO Science, delivers oral health care and dental services around the world to medically underserved communities. In October, a successful mission to Eleuthera, Bahamas with Lenny Kravitz's Let Love Rule Foundation delivered care to more than 500 residents making GLO Science's decision to commit 20% of its funds to serving the community an easy one.
"After many successful efforts we feel the need to continue to deliver care and we want our customers to know they are helping those who need oral health care every time they purchase a GLO Science product on line," said Stacey Levine, co-founder of GLO Science and the GLO Good Foundation. "GLO Science keeps social responsibility top of mind, and every time someone becomes part of the GLO family by purchasing any one of our products they are also helping those who need care."
While GLO Good has conducted several successful clinic missions around the world in Rwanda and the Bahamas, the focus of upcoming future clinics will be in the U.S. Despite the passage of the Affordable Care Act, many people still lack access to dental care. Previously, GLO Good has also delivered clinics in New York and Los Angeles, where access to good dental care and oral health services is scarce. "Giving Tuesday" was started by the 92nd Street Y and the United Nations Foundation in 2012 as a way to keep philanthropy top of mind in the holiday season, when commercialism and consumerism is at its peak. Many companies pledge resources during this time for various social causes. With GLO Science products sales surging during the holiday gift season, the 20% pledge on "Giving Tuesday" will insure more people get proper dental care.
"We are in a position to respond to a growing and vital need for dental services right in our own community and GLO Good is a solution to the lack of access to good dental care," said Jonathan B. Levine, DMD, Co-Founder of GLO Science and GLO Good. "Our core mission at GLO Good is to go wherever there is a need for services, and we know that our family of customers at GLO Science share that mission."
Oral health care education is a large part of the mission of GLO Good, providing the important lifestyle habits to prevent dental disease from becoming life-threatening.  Kids' recreational programs and activities on dental and medical education are provided throughout the duration of the clinic. People are encouraged to donate to GLO Good to enable the Foundation to continue to bring oral health services to underserved areas of the world by going to http://www.glogoodfoundation.org.  The breakdown of donation amounts is outlined on the site and directly correlates to the exact number and type of services that are delivered. 
About GLO Good
GLO Good is the philanthropic foundation affiliated with the global oral health company GLO Science, founded by Jonathan and Stacey Levine.  Dr. Jonathan Levine, a practicing prosthodontist in New York City invented the GLO Science proprietary tooth whitening technology and teamed up with his wife Stacey to launch the company in 2010.  Simultaneously, the Levines launched GLO Good as way to bring medically underserved around the world quality oral health services.  The Levines have lead missions to Rwanda, the Bahamas and impoverished areas of Los Angeles and New York City.  To see more about the work of GLO Good and to donate to help bring services to people around the world go to http://www.glogoodfoundation.org.
 
facebook:@gloscience  
twitter: @GLO_Science          
instagram: @glosciencenyc    
 
CONTACT:
Tim Sullivan 732-816-0239
t3shamrock(at)gmail(dot)com