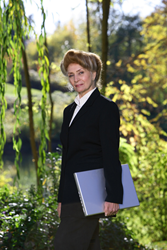 Grants Pass, OR (PRWEB) November 29, 2016
Sharon Kleyne, creator of a new Water Life Science® lifestyle and the host of the nationally syndicated radio program, The Sharon Kleyne Hour Power of Water, Global Climate Change and Your Health on Voice of America, recently took to the air in an effort to head off the annual spike in dry eye irritation during the holiday season.
Sharon Kleyne, whose water research and new water technology discoveries have earned her a global reputation as an expert on dry eye disease and supplementation of the body's water vapor, knows better than anyone what the holidays can do to a person's eyes. "Dry eye disease afflicts us all year round," said Kleyne, "but it can get so much worse during the holidays." Kleyne pointed out that so many of the causes of dry eye disease—contact lens wear, computer use, frequent flying, sleeplessness and even LASIK surgery—can and do intensify for billions of people at this time of year. "Everybody runs around, stays up too late and shops in person and on line," said Kleyne, "until they begin to feel like their eyes are going to fall out." Kleyne urges people to use restraint. "Make shopping plans and stick to the plan," said Kleyne, "and turn off the computer and get enough sleep!" Kleyne also suggested additional steps one can take to find dry eye relief.
When the tear film lens of the eye dehydrates due to excessive water vapor evaporation, and you feel the onslaught of redness, swelling, blurred vision, itchiness and headaches, Sharon Kleyne urges use of the only effective water-only supplement for dry eye disease on the market, a product that was created by the water research company Kleyne founded, Bio-Logic Aqua® Research Water Life Science®. In its research center, Kleyne discovered a new water technology that replenishes the compromised tear film of the eye with pure water and no chemicals or additives. "Nature's Tears® EyeMist® for dry, dehydrated eyes," said Kleyne, "is still the only Trade Secret tissue culture grade water in the world to supplement over-evaporation of the eye's tear film and checkmate dry eye disease on the planet."
Nature's Tears® EyeMist® is applied to the eyes by a personal hand-held humidifying device emitting a pure, pH balanced, 100% water micron mist for dry eyes. The product is endorsed by more than 22,000 ophthalmologists and optometrists nationwide and was successfully test-marketed in more than 70,000 outlets.
The eye is incredibly vulnerable, and its lens needs to be supplemented several times a day. Many people use saline solution eye drops, but administering these drops can be uncomfortable. They can sting, and they can blur the vision. In addition, they do not supplement, or replace, water that has been lost from the tear film due to evaporation. Instead, saline eye drops trap water. They do nothing to replenish water, and without replenished water, the dry eye condition persists and eventually gets worse. Kleyne pointed out the reasons for dry eye disease's millions of global sufferers. "The tear film of our eyes," Kleyne said, "is 99% water, and that lens must cope with dirt, dust, the polluted atmosphere, wind, anxiety, heat and cold, among many other factors. But with Nature's Tears® EyeMist®," Kleyne continued, "you can take back your holiday season and really enjoy it with clear, moist, healthy eyes."