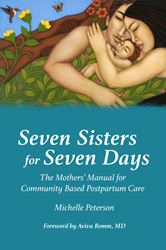 Seven Sisters for Seven Days teaches new mothers how to get the care that they need after the baby is born.
Amarillo, TX (PRWEB) November 29, 2016
New mothers in our culture often plan extensively for their births, but do little to plan for the challenges of the postpartum period. As a result, they often feel adrift in the sea of new motherhood. Praeclarus Press author, Michelle Peterson, would like to change all of that. Her new book, Seven Sisters for Seven Days, is a comprehensive guidebook that helps pregnant women plan for the care that they will need once the baby is born. Mothers can do that by reaching out to the people who care about them the most. Mothers' friends and families often want to help them, but don't know how. Seven Sisters for Seven Days provides a template for helping new mothers, and more importantly, how to be effective care providers.
Seven Sisters for Seven Days started as a program Michelle Peterson developed for herself during her second pregnancy. After her first postpartum experience, she realized that she needed far more care the second time around. The challenge was how to get the support she needed. After brainstorming with some of her closest friends, she came up with a model to help her. She then started teaching it to others. Since those tender beginnings, she has used this model effectively in her community to help new mothers learn how to ask others for the help that they truly need. Seven Sisters also helps friends and family actually be effective care providers. The goal is to help communities take better care of new mothers. Taking care of new mothers is the greater good.
Aviva Romm, MD, author of The Natural Pregnancy Book and Natural Health After Birth, said:
"Please pick up this book and nourish a new mom … Each of us needs to know we are not alone."
Michelle Peterson is the founder of The Seven Sisters Postpartum Care Program. After a challenging first postpartum, she created this incredible system to support her family during her second postpartum and soon began sharing it with mothers in her community and beyond. Michelle focuses on helping mothers get the support they need. She believes that the spiritual, emotional, and physical welfare of families is the backbone of our collective well-being.
Praeclarus Press is a small press founded by health psychologist, Dr. Kathleen Kendall-Tackett, focusing on women's health. The mission of Praeclarus Press is to publish books that change women's lives. It is based in Amarillo, Texas.
Seven Sisters for Seven Days is available at Praeclarus Press.com or on Amazon.com.