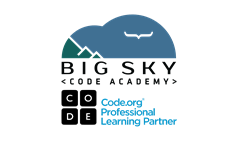 We're proud to be creating jobs that bring Montanan's home.
Missoula, MT (PRWEB) November 29, 2016
Today, the America Campaign's™ Big Sky Code Academy™ announced that Megan Jung is joining the team as the new Montana Code Girls™ Program Director. This key position will serve as the lead for the Big Sky Code Academy's youth initiatives including its fast-growing Montana Code Girls program.
A native Montanan from Billings, Megan graduated from St. Catherine University in St. Paul, Minnesota where the university's mission to educate women to lead and influence helped shape her interests and professional passions. Her career took her to Bozeman and then Oregon where she completed her Master's degree at Oregon State University and subsequently worked at University of Portland.
"I was looking for an opportunity to come home to Montana and serve my community again" said Megan. "I'm excited to join the Big Sky Code Academy team to help lead and empower Montana's next generation of young women to pursue their interests and passions in technology and coding."
"I am proud that the explosive growth of our Montana Code Girls program, with over 100 registered students, has created an opportunity for one of Montana's own to come home" said Devin B. Holmes, America Campaign and Big Sky Code Academy founder. "I look forward to working with Megan as she brings her experience and leadership to the team to define the future of our youth initiatives. As we train the current and future workforce of Montana's technology sector, we are working hard to create more jobs that will bring Montanan's back home."
Big Sky Code Academy is an initiative of the America Campaign, a national non-profit founded in 2015 by serial entrepreneur and philanthropist, Devin B. Holmes, working to improve the lives of all Americans through technology, education and the arts. Along with its Montana Code Girls initiative to provide technology training for young women in Montana ages 9 to 19, the America Campaign is focused on developing innovative technology focused solutions that create positive impact. The Big Sky Code Academy offers full-time and part-time intensive coding boot camps to train current and future generations of technologists for Montana's technology economy.
Prior to founding the America Campaign, Devin founded StartUpers.com® and Warrior Gateway®, a national non-profit that connected the military community with members of its G.I. Network®, a collaborative of over 220,000 trusted and reliable local service organizations, programs, educators and employers.
More information about the Big Sky Code Academy and its initiatives can be found at http://www.bigskycodeacademy.org
###