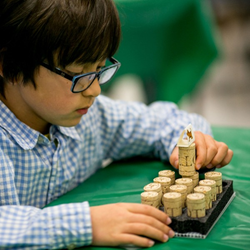 SAN JOSE, CALIF. (PRWEB) November 29, 2016
Computers are everywhere and success in the future will increasingly depend on understanding how technology works. Unfortunately fewer than half of all schools teach computer science. The Hour of Code is a one-hour introduction, to show that anybody can learn the basics of coding. In just one hour all students can learn that computer science is fun and creative.
"The Hour of Code is designed to demystify code and show that computer science is not rocket science—anybody can learn the basics," said Hadi Partovi, founder and CEO of Code.org. "Over 100 million students worldwide have tried an Hour of Code. The demand for relevant 21st century computer science education crosses all borders and knows no boundaries."
RAFT's activity, Puppy Programming, is an unplugged approach to teaching coding with no device needed. Students must lead a puppy to a tennis ball while avoiding blockers, represented by corks. They must give exact instructions in proper order for their "program" to run properly. The set of instructions for the puppy to successfully reach the ball is a model of a computer program. The students are coding without the need for devices or internet connections!
This fun and easy activity reinforces programming techniques such as planning, sequencing, testing, debugging, and creating procedures and loops. By creating and testing out these simple programs students are both generating and comparing multiple solutions for transferring data (the puppy) using a patterns (sequence of instructions), without the need of a screen. Writing a successful program requires planning and foresight.
"We loved putting together the Puppy Programmer Game. We learned about strategy, and clockwise and counterclockwise direction. We played it with children ages 6 to 14. Everyone enjoyed it", said one RAFT member who recently used the activity with an after school group.
Students use a set of basic cards to sequence the steps to get the puppy to the tennis ball. Advanced cards introduce the concepts of direction and loops. The programs are easily created and provide excellent opportunity for team collaboration and peer assessment because the models can be tried by other teams, allowing for immediate peer feedback. Teams can exchange cards and look for errors, such as the puppy hitting a cork, and then correct, or debug, the program.
Puppy Programming can be used as an Hour of Code activity. The Hour of Code can take place any time of year but is frequently held by schools and organizations during Computer Science Education Week, which in 2016 is December 5-11. The activity is documented here and a prepackaged kit is also available.
Find out more about RAFT and how to get involved at http://www.raft.net
About RAFT – Resource Area For Teaching
RAFT – Resource Area For Teaching is a non-profit, resource solution to help educators transform a child's learning experience through hands on education to one that inspires the joy and discovery of learning. Founded in 1994, RAFT focuses on providing educators of all types – classroom teachers, after school educators, home-school educators, scout leaders, early care and education professionals – with effective, engaging, affordable hands-on learning resources aligned to national curriculum standards. RAFT, believes the best way to spark a love of learning for the next generation of thinkers, innovators, problem-solvers, and creators is through hands-on learning. RAFT supports some 11,000 educators in enriching and improving the education of more than 850,000 students young year.
# # #
©1994-2016 Resource Area For Teaching. All rights reserved. The RAFT logo and RAFT product names referenced herein are trademarks or service marks of RAFT – Research Area For Teaching. All other trademarks, trade names, service marks, and logos referenced herein belong to their respective companies.