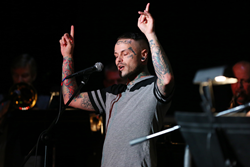 If what you believe in doesn't make a difference, then it doesn't make a difference what you believe in.
Detroit, MI (PRWEB) November 29, 2016
Detroit native and rapper Tommy Kraus (aka: Tommy Gunz) is scheduled to co-headline the 5th Annual "Recovery Live - DETROIT Residency Tour" with comedian Mark Lundholm making four public performances on consecutive days beginning later this month. The performances will take place on November 30th at the historic Howell Theatre, on Dec 1st in the Macomb Intermediate School District Auditorium in Clinton Twsp, on Dec 2nd at the Elevate Church in Monroe, and on Dec 3rd at Hartland Performing Arts Center which includes the option of a five-course "pop-up" meal by executive chef John Breeland.
This one-of-a-kind tour engages a cross-section of the community affected by addiction, and will address the stigma attached to addiction and the barriers to, and opportunities for, recovery. Proceeds will help provide funds for community substance abuse initiatives as well as support further performances at the Livingston and Oakland County Jails, Children's Village Juvenile Facility, Meridian Health Services – CPI Programs, Brighton Center for Recovery Treatment Center, High School presentations at Harper Woods, Northville, and Brighton School districts, Macomb County Operation Rx Summit, and Livingston County Project Lazarus. The Recovery Live Residency Gig was created by Michigan-based addiction specialist Scott Masi, Outreach and Referral Specialist at St. John Providence Brighton Center for Recovery, and founder of Unite to Face Addiction - Michigan.
About Tommy Gunz
Tommy Gunz is a self-described "conscious, hip-hop lyricist and performing artist in recovery." For the past year, he has also been Lyrical Life Coach and more recently became a group facilitator at The Recovery Unplugged® Treatment Center in Ft. Lauderdale, Florida. As of this past June 16th, he's been clean for two years.
He was a teen poet growing up in Detroit, who at 19 started recording and performing at underground parties, "freestyling" over beats for fun. During the years from 2004 to 2012, he recorded three CDs which he sold, hand to hand in the streets of Detroit, and in 2015, after beginning his journey from drug addiction to recovery, released his first recovery-based mixtape, "Still Sick and Suffering - Volume 1." The last song in that collection was a goodbye letter to addiction and chronicles the start of his recovery, which established him a global following via social media.
It was that music that brought Tommy Gunz to Recovery Unplugged, the drug and alcohol rehabilitation center in Ft. Lauderdale, Florida and Austin, Texas, where they say, "music makes the difference." The Recovery Unplugged® protocol blends an immersion in music with a variety of other therapies, offering addicts and alcoholics a unique program focused on long-lasting recovery.
In Friday group sessions with famed singer/songwriter Richie Supa (Aerosmith, Ozzie Osbourne, P!NK, Willie Nelson and many others) – who is also Recovery Unplugged®'s Director of Creative Recovery - Kraus raps about the week's discussion themes. "Richie will perform a set of songs, talking throughout about his lyrics and getting reactions and thoughts, and will then play a couple of songs designed for me to jump in on and freestyle," he says.
Kraus uses various styles of music to create receptive environments, targeted for specific therapeutic breakthroughs. He also creates unique, music catelogues for each new client so they have a personal experience while in treatment, which they then are able to take home with them. Additionally, Kraus hosts and performs at drug and alcohol free events, where addicts in recovery are offered a safe place to enjoy live music with their friends and families.
Recently, Kraus has been in two-time GRAMMY Award-winning producers Marcello "Cool" Valenzano and Andre "Dre" Lyon's "Record Room" studio in Atlanta. The duo is producing Kraus' debut EP Halfway Home. Cool and Dre have contributed to albums that have sold 70 million albums worldwide.
In addition to his work at Recovery Unplugged®, Kraus has helped launch a non-profit, recovery-based event company called "Rappers in Recovery", with close to 20,000 followers currently worldwide. This was done to not only help artists in recovery to get exposure at live shows, but to utilize social media in order to spread a positive message through real hip-hop.
As for the future, Kraus says, "If the spotlight happens to fall on me for my music, that's great. But I want to inspire people to make positive changes in their lives and challenge other artists to make music that people can relate to. Kraus says "If what you believe in doesn't make a difference, then it doesn't make a difference what you believe in."
For recovery songs by Tommy Gunz, (and music from when he was using), go to:
Reverb Nation.tommyrtkul8gunz
Soundcloud.com/tommygunz/
Facebook.com/rtkul8
Facebook.com/rhymingrecovery.com
Snapchat@tommygunz313
About Recovery Unplugged
Recovery Unplugged® Treatment Centers are alcohol and drug rehab in Florida and Texas that offer a rehabilitation approach that is unique and long lasting. The centers combine traditional and cognitive behavioral approaches that use music creation as a catalyst to break down defenses, inspire, and motivate the change necessary for long-term recovery and sobriety. Recovery Unplugged® is committed to providing hope and healing, using music to help individuals suffering from addiction all over the United States.
About Scott Masi
Scott Masi is Referral and Outreach Specialist at the Brighton Center for Recovery. He is a founding Member of UFAM: Unite to Face Addiction - Michigan, RADEO: Regional Anti-Drug Education & Outreach Organization of Michigan, Michigan Opiate Prevention Alliance, and Community Parent Inc. Scott has been instrumental in developing strong relationships with Labor Assistance Professionals throughout Michigan and nationally, helping to develop and provide treatment and educational programs. His passion for those in early recovery and the challenges they face is evident in his continued efforts to break the stigma of addiction.