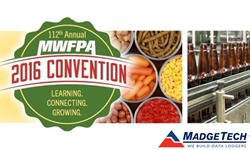 Temperature monitoring is a fundamental critical control point for the food processing industry.
Warner, NH (PRWEB) November 29, 2016
MWFPA was established in 1905 as the Wisconsin Canners Association, but has grown today to represent food processors across Illinois, Minnesota and Wisconsin. Acting as a legislative voice, the primary role of MWFPA is to influence public policy issues to state and federal agencies.
For the 112th year, MWFPA is bringing together leaders in the food processing industry to discuss new trends and technologies, while providing the resources needed to meet the challenges of customer demands and government oversight. Also in attendance will be MadgeTech Food Safety Sales representative and HACCP Certified Manager, Steve Revak.
"Temperature monitoring is a fundamental critical control point for the food processing industry, that's why MadgeTech takes pride in offering a variety of solutions to ensure the safety and quality of the final product from cooking, to shipping and storage," says Revak.
Among the products that will be on display is the RFOT wireless meat temperature data logger. The RFOT is an industry favorite for monitoring and recording the internal temperature of meat products and is built to withstand cooking processes up to 212 °F (110 °C), as well as coolers and freezers down to -4 °F (-20 °C). To accommodate a wider variety of meat product types and sizes, the RFOT is now available in four different probe sizes ranging from 1.75 inches to 7.0 inches.
MadgeTech's top-selling HiTemp140 series is a popular choice for verifying wet or dry food processing applications. Made from food-grade stainless steel, the HiTemp140 data logger can endure temperatures up to 284°F (140 °C) and are completely submersible. For thermal process monitoring, MadgeTech offers both the ThermaLock Pro and CF200 canning fittings, which are designed to be used with HiTemp140-FP data loggers. Either fitting can connect directly to cans, jars and other containers to monitor internal temperatures throughout food processing phases.
To prevent food product loss or spoilage, attendees will be interested in MadgeTech's RFTCTemp2000A wireless data logger for monitoring of refrigeration and cooling units. This device is ideal for monitoring ambient temperature and can be fitted with a thermocouple probe for targeted remote measurements in real-time. With the RFTCTemp2000A, users can customize alarms to alert when specified temperature thresholds are breached, notifications can even be sent through text message and email.
MadgeTech Cloud Services is compatible with all MadgeTech wireless data loggers, allowing users to view real-time data from any internet enable device from anywhere in the world. Around-the-clock access offers assurance from the palm of your hand, whether it's just one facility or a network of facilities around the world.
These products and more will be available at the MadgeTech booth #1203. Swing by to learn more about MadgeTech's industry-leading data loggers, customizable solutions and user-friendly software.
For more information about MadgeTech data loggers, please call MadgeTech at (603) 456-2011 or send an email to info(at)madgetech(dot)com.