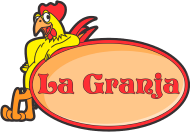 Delicious food, super fast service and always consistent with service and quality of food. Affordable menu and huge portions. My all time favorite place to go to.
North Miami Beach, FL (PRWEB) November 30, 2016
La Granja has almost 50 locations through South Florida, including the one at 1901 NE 163rd St, North Miami Beach, FL 33162. This location is near the Walmart Supercenter and is 9 minutes driving distance distance from Aventura Mall. All locations serve authentic Peruvian food in a family atmosphere.
With the holidays around the corner, there are sure to be many festivities. Don't forget La Granja! Contact them to order lots of great fresh dishes from their menu instead of slaving over a hot stove.
La Granja in North Miami Beach on 163rd St. has a new promotion: whole chicken with rice and beans for only $12.50 (normally $14.50). This promotion lasts throughout January 2017.
La Granja is famous for their Pollo a la Brasa, or Peruvian rotisserie chicken. It can be ordered as a meal with a choice of sides, or a family style meal that serves four hungry appetites. But chicken isn't all they serve—steak, seafood, pork—all served fresh and at affordable prices.
All La Granja restaurants offer a healthy dose of Peruvian culture along with their award winning Peruvian food. Each location beams with Peruvian charm, is warm and inviting, inviting those that cross their threshold to come in and stay awhile.
In 1993, members of the Bartra family founded La Granja in Aruba. Never would they have imagined the overwhelming success La Granja would attain, or the impact it would have on the community. This once modest eatery, serving top quality, authentic Peruvian food, has blossomed into a robust restaurant empire with more than 40 locations in Florida today.
Along the way, the restaurant and its owners have won numerous awards for their food and service to the community. La Granja supports the South Florida community by partnering with grass roots youth organizations like ASPIRA, honoring veterans, and offering scholarships to Florida residents of Hispanic and Latino descent to Palm Beach Community College.
The Bartra family credits La Granja's great success to their hard work, as well as being afforded the chance to prosper in the United States of America, which they truly believe is the land of opportunity.
For further information and to search for the nearest location, visit https://www.lagranjarestaurants.com/en/
Additional contact information:
La Granja Corporate Office
3907 NW 49th Street Tamarac, Fl 33309
Phone: (954) 968-7988
info(at)lagranjarestaurants(dot)com
http://lagranjarestaurants.com/