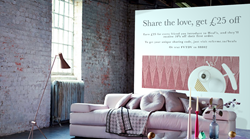 "Word of mouth has always played a huge role in attracting new customers. We're excited to be able to use digital tools to reward our customers for their advocacy"
London (PRWEB UK) 30 November 2016
Buyapowa can today announce that, together with the celebrated home furnishing retailer Heal's, it's breaking new ground in referral marketing technology - bringing a previously online-only phenomenon into the place where the vast majority of retail still takes place: physical stores.
As of today, Heal's customers will not only be able to enrol in their hugely successful referral programme in-store, they'll also be able to share incentives with their friends which can be redeemed either online at heals.co.uk or at any of Heal's stores across the UK.
This has been achieved by developing world-first technology which can quickly integrate with any EPOS system, enabling sales assistants to validate digital referrals on the spot. The moment a friend presents their unique incentive code in-store, our technology translates any applicable saving for the EPOS system while simultaneously identifying the referrer and issuing them a reward for making a successful introduction. This too, of course, can be spent online or in-store, maximising the chance of repeat purchases from loyal customers.
Heal's will be promoting their exciting new programme via in-store signage, with flyers and on till receipts in the run-up to the peak Christmas trading period. Customers will be able to enrol in the programme by simply texting from their phone or signing up at http://www.heals.com/introduce-a-friend.
Heal's David Kohn, Customer & eCommerce Director, said: "For over 200 years, Heal's has benefited from the incredible passion and loyalty of our customers, and word of mouth has always played a huge role when it comes to attracting new customers. We're excited to be able to use digital tools to reward our customers for their advocacy and we're delighted to be working with Buyapowa to integrate that digital element into our retail stores, bringing everything together."
"The reality is that so many transactions do involve a store visit," said Buyapowa CEO, Gideon Lask, "and that's especially true when it comes to considered purchases such as furniture. With this powerful new technology, we can tap into the incredible advocacy of our customers while making sure that their friends are able to find the perfect product - in the perfect environment - before transacting."
While Heal's are the first to make use of Buyapowa's new digital-to-physical referral feature, it will be rolling out into other sectors which similarly depend on real-world visits before the end of 2016, including the casual dining chain Zizzi, fashion brand Oliver Spencer and the world-famous Mondrian London hotel.
ENDS
ABOUT HEAL'S
Heal's has been designing, making and selling quality furniture for more than two centuries now, so it's no surprise that it's known as 'the home of modern and contemporary designer furniture'. Starting out as a bed-makers in 1810, and later embracing the ideals of the Arts and Crafts movement, Heal's has a long history of collaborating with prominent designers. Heal's is as passionate today as it's always been about introducing new ranges, discovering stars of the future and pushing the boundaries of outstanding contemporary design.
ABOUT BUYAPOWA
Buyapowa is the world's leading referral marketing platform, powering invite-a-friend programmes for hundreds of brands including L'Oréal, ASOS, O2, Sky, River Island and Three. A unique feature-set, including a multi-referral engine, flexible rewards and an intelligent sharing suite, enables brands to launch fully-branded, internationalised referral programmes in minutes, reducing the cost per customer acquisition by up to 80%.
For more information visit http://www.buyapowa.com/, or for regular updates connect with us on:

Media Enquiries
Contact Peter Cunningham at hello(at)buyapowa(dot)com