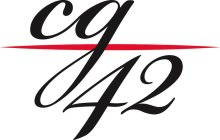 New York, NY (PRWEB) November 30, 2016
Management consultancy cg42 today announced that Dominik Prinz has joined the firm as partner. Mr. Prinz comes to cg42 after 10 years as Executive Director and Head of Strategy for the New York and San Francisco offices of Interbrand, a global brand consultancy. His experience leading brand strategy initiatives for Fortune 100 companies lends itself well to cg42, where he will be leading the firm's expansion of its customer experience and innovation practice.
"Adding a powerhouse like Dominik to the team is a big step forward for cg42," said Steve Beck, founder and managing partner, cg42. "Dominik's success working with some of the world's biggest companies will be incredibly valuable in helping our clients enhance their customers' experiences, and I am proud to have him on board as we move cg42 forward."
"Being part of a company as nimble and dynamic as cg42 will allow me to help solve some of the world's most exciting business challenges for some of the world's most exciting companies," said Prinz. "Understanding what drives people's behavior and how to use that knowledge to grow businesses has always been my passion, and I'm looking forward to continuing that work at cg42."
Born in Germany, Prinz holds degrees in International Business and Marketing from the Cologne Business School, as well as an Executive MBA with distinction from the Maastricht School of Management. He is also an industry-recognized thought leader and speaker who has spoken at leading universities and conferences and has authored articles for various magazines and news outlets. Prinz currently resides in New York City.
About cg42
Don't Panic
cg42 is the boutique management consulting firm that pioneered the patent-pending approach to quantify frustration and permission. We build competitive strategies that drive greater market share for our clients. We speak the languages of operations, finance, and marketing with equal fluency, giving us a definitive edge in helping the disparate parts of our clients' organizations embrace a common strategy for growth. cg42 has helped senior executives at Fortune 100 companies in the technology, telecommunications, financial services, consumer services, and hospitality sectors successfully address their most pressing business, competitive, marketing, and brand strategy challenges. For more information, please visit: http://www.cg42.com.