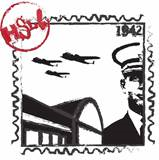 (PRWEB) November 30, 2016
Long Beach, CA—For three years the Historical Society of Long Beach has been preparing for an exhibition chronicling the effects of the fateful day when the Japanese Empire attacked the United States Naval Fleet, 75 years ago. The 1941 attack drew the United States into World War II and changed the city, its infrastructure, economy, and its community forever. The exhibition kicks off with an opening reception on Wednesday, December 7th at 6:00 pm, at 4260 Atlantic Ave, Long Beach CA 90807.
The December 7th reception includes an Honor Guard from the US Navy Recruiting District, Los Angeles, performances by the Nightengals, and stories of Long Beach heroes by Dr. Craig Hendricks. In addition, Rich Archbold will lead the telling of stories about relatives of those in the audience. Mai Tais, wine, and hot and cold appetizers will be served. General Admission $75, Veterans & Active Duty Military in Uniform $60. Tickets can be purchased at http://www.hslb.org.
The HSLB's 2000 square foot galleries will host the exhibition and reception. The show chronicles local tidelands and maritime activities that related to the early years of World War II, illustrates how ordinary people who lived here were affected, and how those events are echoed in present day Long Beach. The show opens on December 7, 2016 as a respectful commemoration of the 75th anniversary of the day President Franklin Roosevelt proclaimed "will live in infamy." The free exhibition will be open five days a week at 4260 Atlantic Ave in Bixby Knolls and runs for 15 months. Hours are: Tuesday, Wednesday, Friday 1-5pm, Thursday 1-7pm, Saturday 11-5pm
Historians who worked on the exhibition include Timothy Friden, Dr. Kaye Briegel, Dr. Craig Hendricks, and early work was done by Dr. Julian DelGuadio (deceased). Materials on display include burial flags, biographies of local war heroes, photographs, newspaper accounts, maps, WWII era memorabilia, casualty lists, stories of Japanese American families, correspondences, uniforms, and more. Items and information were collected from veterans, families of those who perished at Pearl Harbor, community members, Long Beach Airport, Boeing Archives, San Pedro Bay Historical Society, Los Angeles Harbor College, and the National Archive.
Exhibition Sections Include:
…December 7, 1941: "A Date That Will Live in Infamy"
The Stage is Set
From Citizen to Suspect (Japanese Americans and immigrants)
The Home Front
A Call to Arms
Fortress Long Beach
The Battle of Long Beach
Sponsors Include:
Long Beach Navy Memorial Heritage Association
Los Angeles County Supervisor Don Knabe, 4th District
Molina Healthcare
Evalyn M. Bauer Foundation
Matson Foundation
Port of Long Beach
Boeing Employees Community Fund
St. Mary Medical Foundation
Miller Foundation
Long Beach Airport
Roxanne Patmor
John R Deats
James & Elizabeth Breslauer
Leo Vander Lans
Joan & Joseph Van Hooten
Diane Jacobus
Kristi Fischer & Joe Vanderhorst
Mike & Arline Walters
Don Temple Family Foundation
Long Beach Convention & Entertainment Center
John W. & Elizabeth Hancock
Arts Council for Long Beach
Niki Tennant