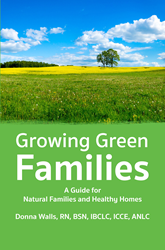 Growing Green Families teaches simple strategies for families to "go green" and reduce their exposure to toxins.
Amarillo, TX (PRWEB) November 30, 2016
Many families worry about the effects of environmental toxins on their families, but do not know how to reduce toxicity in their homes. Donna Walls first became interested in natural living after she had her children. As a nurse, she began to question the standard ways of healing, and sought out more natural approaches. After her children were grown, she became a Master Herbalist, and started quietly educating her clients about more natural ways to live. She wrote her book, Growing Green Families: A Guide for Natural Families and Healthy Homes,so she could get the word out to a wider audience.
"My life became greener, expanding into teaching and preaching about the glories of natural cleaning, natural and herbal healing, and healthy food choices. I have a burning need to have more people listen, hear, and take action. Hopefully this book will help others on this path for a cleaner, healthier planet."
Growing Green Families, published by Praeclarus Pres s, provides easy strategies for people to "go green" and provide a safer home environment for their families. It includes a number of strategies for families to reduce environmental toxins in their homes by making simple changes in the products they use. Growing Green Families includes natural alternatives for personal care and housecleaning products, organic strategies for yard care, and how to shop for healthier food. When it comes to keeping families safe, every bit counts. Growing Green Families gives readers the tools they need to make that first step towards a healthier lifestyle.
Donna Walls is a nurse, childbirth educator, lactation consultant, and master herbalist in Dayton, Ohio. She teaches aromatherapy and herbal medicine at Sinclair Community College. She is particularly interested in women's health, including breast cancer prevention, with a focus on the connection between health and the environment.
Praeclarus Press is a small press founded by health psychologist, Dr. Kathleen Kendall-Tackett, focusing on women's health. The mission of Praeclarus Press is to publish books that change people's lives. Praeclarus Press is based in Amarillo, Texas.
Growing Green Families is available at Praeclarus Press.com or on Amazon.com.