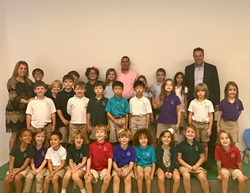 Experiential learning enables personalized learning.
West Palm Beach, Florida (PRWEB) November 30, 2016
Former Governor of New York David Paterson made a guest appearance at The Greene School. Paterson was the first African American Governor of New York and the second legally blind governor of any U.S. State.
Paterson shared his experiences while he was governor, as well as the experience of living with a disability and obstacles he faced during his lifetime. He also shared personal stories of people who inspired him to overcome adversity. Greene School students asked him questions regarding politics as well as his about blindness.
Paterson's dynamic personality and fascinating stories captivated the students in Kindergarten through Fourth Grade.
Former Governor Paterson is one of many prestigious guest speakers that The Greene School will host. Experts in their respective field and guest speakers enhance the students' educational experience. An additional benefit of this personalized experience is that The Greene School students are able to draw real life connections to what they learn in class.