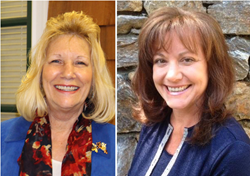 These market areas require the sales and masonry product knowledge that both Cheryl and Paulette possess; we are please to have them join the O&G sales team.
(PRWEB) November 30, 2016
O&G's luxury Earth Products Showcase recently brought Cheryl Bouvier and Paulette Brassinga in as the new Sales Representative's in the Hartford and Stamford locations respectively. Cheryl and Paulette are responsible for showroom sales, developing customer relationships, and working closely with the outside sales team. "These market areas require the sales and masonry product knowledge that both Cheryl and Paulette possess; we are pleased to have them join the O&G sales team," remarked Kara Oneglia, Assistant Vice-President.
Cheryl joined the O&G team in 2002 as the International Coordinator in the Fabrication and Distribution Center. Her knowledge of natural stone products and fabrication methods makes her the perfect choice in her new role. She brings her expertise in natural stone materials, office and retail management, and superior customer service to the company. "My experience and knowledge of the material have helped me transition into this new, exciting position," Cheryl notes. She lives in Bristol, Connecticut and is the proud parent of her daughter, a West Point student cadet at the United States Military Academy.
Paulette brings over twenty years of experience in the masonry products and stone fabrication industry. Her expertise and skill set in this industry add immediate value to the consumers with whom she meets. "I am excited for the opportunity to work with such a supportive team in Stamford to ensure our goal of superior customer service," Paulette remarked. She is also a licensed Realtor in CT and a member of the National Association of Realtors and member of Ridgefield Board of Realtors Public Relations Committee. Paulette earned her B.S. in Business Administration and minored in psychology from Pace University. She is a volunteer with the Girl Scouts of America program, Habitat for Humanity, and hosting international students. Paulette lives in Ridgefield with her husband, four daughters, and two dogs.
ABOUT O&G INDUSTRIES MASONRY DIVISION
Since its inception in 1923, O&G Industries, Inc. has grown to become one of the most diversified construction companies in the Northeast and one of the largest suppliers of masonry products and services in New England. Headquartered in Connecticut, the masonry division's facilities include:

Seven mason stores and stone yards,
Six Earth Products Showcase retail showrooms,
Fabrication and Distribution Center for custom stonework.
Meeting design specifications and budgets, O&G sales representatives work with architects, design professionals, contractors, and homeowners to guide them through the widest selection of earth-based materials available. O&G's Earth Products Showcases feature elegantly appointed vignettes from classic to contemporary design styles in a comfortable, natural setting. For more information about O&G Industries Masonry Division navigate to O&G's website at http://www.ogind.com/mason.