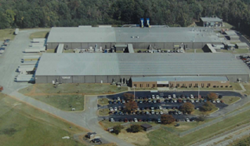 Thomaston, GA (PRWEB) August 02, 2017
Solutions Pest & Lawn today announced the opening of a 350,000 square foot manufacturing and distribution facility located in Thomaston Georgia. This will be the 12th facility in the retailer's growing network of stores and warehouses and will be critical to supporting the rapid growth of Solutions' direct to consumer pest control businesses.
"We are excited about the opportunity to be opening one of the largest distribution facilities dedicated solely to the professional pest control industry," said Zach Colander, CEO of Solutions Pest & Lawn. "Our sales have far outpaced our current facilities and this purchase will provide plenty of room for our planned growth."
"Kyle Fletcher with the Development Authority and Thomaston City Leadership were very supportive throughout the acquisition process and we are excited to be bringing more opportunity to the city of Thomaston," said Richard Wilkinson, VP of Plant Operations at Solutions.
The manufacturing plant will produce granular, liquid, and powder pesticides and is being designed from the ground up to take advantage of advanced robotics and process engineering for maximum efficiency. The facility will manufacture and distribute for Solutions' growing retail and e-commerce divisions as well as offer full supply chain management to other companies in the industry. It is anticipated that this location will handle Solutions' forecasted growth plan to $250 million in sales.
About Solutions Pest & Lawn: "Ask us How, Then Do It Yourself"
Solutions is a direct to consumer manufacturer of professional insecticides, herbicides, and fertilizers. Unlike traditional box store retailers, Solutions sells professional insecticide concentrates, cutting out packaging costs and saving customers hundreds of dollars on pest & lawn care. Solutions' products are sold through their brick and mortar retail stores and online at: http://www.solutionsstores.com.
Over the past 4 years Solutions has expanded their retail store and e-commerce network nationwide and now supplies millions of residential customers and thousands of pest management professionals, government agencies and non-commercial applicators across the United States with the highest quality products at economical prices.
Contact:
Solutions Pest & Lawn- Media Relations
713-955-2014
media(at)solutionsstores(dot)com