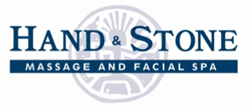 TREVOSE, Pa. (PRWEB) November 30, 2016
Hand & Stone Massage and Facial Spa, the nation's fastest growing massage and skin care franchise, known for its superior and affordable spa services, held its annual convention in Philadelphia on November 14-16. But instead of the traditional golf outing or cocktail party to kick-off the event, attendees continued their ritual of opening with a hands-on service project in an effort to give back to the communities they serve.
Hand & Stone employees, franchisees, vendors, partners and corporate team members gathered in Philadelphia during the three-day conference. During the annual gathering, more than 70 Hand & Stone volunteers joined together to host charity events in Philadelphia, Bucks and Montgomery County for both Habitat for Humanity and Philabundance. Habitat for Humanity strives to transform lives by building and repairing homes for hardworking families working towards more affordable living in the tri-county area. Philabundance, a non-profit organization, is dedicated to fighting hunger and malnutrition across nine Metro Philadelphia countries.
"Partnering with organizations like Habitat for Humanity and Philabundance gives us an amazing opportunity to put our brand's core values into action," said Laura Long, Director of Support Service for Hand & Stone. "Not only were we able to help families in need, but we also walked away with a strong sense of community pride. It was the perfect way to set the tone for our largest national convention yet."
Hand & Stone volunteers were able to assist the Montgomery County Habitat in the rehab of a home. Three other groups worked in the Habitat ReStores in both Bucks and Montgomery Counties to build racks, rearrange merchandise and accept donations of home furnishings; the ReStores provide a source of sustainable funding for Habitat, enabling them to build and repair more homes in the region. Hand & Stone also packed 728 senior boxes with Philabundance, serving 53,680 meals to the community. In addition to sending scores of volunteers to work on the sites of these nonprofits for the day, Hand & Stone further partnered with the Leff Family Foundation to donate $15,000 to Habitat for Humanity and Philabundance.
In addition to the service event, Hand & Stone spent time at the annual conference honoring its outstanding franchisees. The corporate team recognized and awarded franchise owners who have achieved great success over the past year, have made an impact in their markets and have dedicated themselves to the wellness industry.
Hand & Stone 2016 conference award winners include:

Spa of the Year: Eric and Christiana Anthony – Greensboro, North Carolina
Rookie of the Year: Gregg and Denise Taylor – Manahawkin, New Jersey
Fastest Growing Membership Base: Jeff and Ken Silbert – Clifton, New Jersey
Leading Facial Service Spa: Don Williams and Jeff Repede – Lake Mary, Florida
Marketing Innovator of the Year: Brian and Veronica Kline – Oregon
Top Performing New Spa: Robert and Connie Dugan – Orlando, Florida
Leading Hot Stone Massage Spa: Eric and Christiana Anthony – Greensboro, North Carolina
Customer Service Excellence: Maggie Brown & Skip Papanikolas – N. Scottsdale, Arizona
Community Service Award: Sara and Robert McBride – Virginia
Founders Award: Chad Foster and Mark Reisinger – Charlotte, North Carolina
Most Efficient Spa Operation: Rob and Alicia Beers – Kissimmee, FL
"Each year, we have the opportunity to not only celebrate the growth we've seen as a brand, but to also give back in our local community and to recognize our franchisees," said Todd Leff, CEO of Hand & Stone. "I am grateful to work with a team of franchisees, partners and corporate staff who so quickly commit to our values and who generously jump in during our annual service day event each year to help those in need. We look forward to continuing to build on these great traditions for many years to come."
With nearly 300 locations now open in the U.S. and Canada, Hand & Stone continues to experience record-breaking growth. The brand first opened its doors in 2004 with a mission to bring what were once considered luxury services to the middle market. In addition to massage therapy, Hand & Stone now offers a wide menu of full day spa, facial and hair removal services.
ABOUT HAND & STONE
Hand & Stone is a 300-plus unit massage and facial spa with a mission to bring massage and facial services to the masses. Launched in 2004 by a passionate physical therapist, John Marco and now led by franchise veteran Todd Leff, Hand & Stone now has locations in 26 states and Canada. For more information on Hand & Stone, visit http://www.handandstone.com.