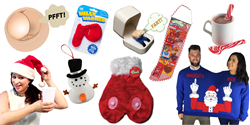 For anyone planning to give the gift of an actual diamond this year, try presenting the farting moon ring instead.
Los Angeles, CA (PRWEB) December 01, 2016
After a decade of selling some of the weirdest stuff on earth, including shocking stocking stuffers and laughable Christmas gifts, Stupid.com has become an expert in bringing laughs to families and friends around the globe during the holidays.
For all ages and personality types, online novelty superstore, Stupid.com, reveals its 10th annual list of the Top 10 Most Stupid Gifts of the Year listed below in no particular order:
Sac-O-Crap Stocking
A play on vintage mesh candy stockings, this Sac-O-Crap comes complete with poopy pranks and gags that kids and adults alike will enjoy.
Santa's List Two-Person Ugly Christmas Sweater
This naughty or nice two-person sweater features Santa's middle finger on the naughty side and shows everyone who's the angel and the devil in the relationship. Grab a partner and wear this cozy ugly sweater to any party with a sense of humor – it's truly a unique holiday sweater.
Farting Moon Ring
This ring box is a bit of a trickster and will either cause laughter or tears – or tears of laughter. For anyone planning to give the gift of an actual diamond this year, try presenting the farting moon ring instead. It's a ring box that contains a mooning butt that farts.
The Willy Warmer
There are some sensitive areas that can use more warmth during the holidays or when sleeping in the nude. Luckily, the heater for that peter is here to help. Like a mitten for a – well let's just say it'll fit as smooth as a glove.
Dirty-Talking Snowman Ornament
This naughty snowman is an adults-only ornament that says three very dirty comments and has a carrot between its legs. Makes for a great stocking stuffer.
Santa Hat Flask
During Christmas, all hands should be occupied opening presents, not holding a drink. It's time to put that head into use with this festive Santa flask hat. This flask even detaches from a zippered pouch for easy cleaning and comes with a tight cap to prevent leakage.
Naughty and Nice Cocktail Glass
For those who never know what type of mood might hit at the next Christmas party, this cocktail glass is the perfect drink accessory to have on hand. Doubling as a wine and martini glass, it's designed to suit either a classy – or frisky – mood.
Boob Stocking
This stocking will be bursting at the seams for anyone who's been nice this year. This rack puts a unique twist on the average Christmas decor and still gets the job done by holding all those awesome stocking stuffers... just like a real pair of boobs.
Farting Butt Sound Button
This farting butt button is perfect for scaring the crowd away during those antisocial moments at holiday parties. With six different fart noises, it's also a great gag that will create lots of laughs.
Peppermint Spoons
Ever wanted everything to taste like peppermint? Now it can with the peppermint spoon. Perfect for hot chocolate, cereal, or even chicken noodle soup, never miss that holiday minty feeling again.
About Stupid.com®
Stupid.com has been spreading laughs - one gift at a time - since it burst onto the online retail scene in 1998. From gag gifts to stocking stuffers, the company offers a diverse selection of over 4,000 products in 120 gift categories.
Website:
http://www.Stupid.com
Facebook:
http://www.Facebook.com/Stupidcom
Instagram:
@Stupidcom
Twitter:
@Stupidcom
Contact:
Whitney Callahan, whitney(at)lotusinternetcorp.com, 323.878.1280