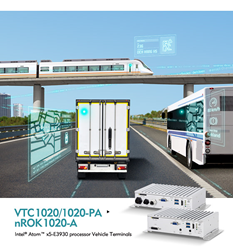 Fremont, CA (PRWEB) November 30, 2016
NEXCOM latest line of vehicle terminals boost telematics adoption to achieve regulatory compliance and hit business targets. Powered by Intel® Atom™ x5-E3930 processor, NEXCOM VTC 1020, VTC 1020-PA, and nROK 1020-A are equipped with vehicle data acquisition, GPS and wireless communication, and data processing capabilities. By bridging the gap between on-duty vehicles and central dispatchers, these vehicle terminals can help fleet, bus, and rail transport introduce telematics applications such as in-transit monitoring, usage-based insurance, preventive maintenance, and more.
Aimed at transport fleets, the VTC 1020 can facilitate daily operations for both drivers and dispatchers. Tucked in a truck, the VTC 1020 can gather GPS coordinates and engine speed to automate the tracking of drivers' records of duty status (RODS) and simplify fuel tax calculations. The VTC 1020 also enables fleet carriers to remotely monitor container locks and temperature in real time to enhance safe and sanitary transport of temperature-controlled cargo and valuable goods. Moreover, the VTC 1020 can collect measurements of mileage, tire pressure, and G-force acceleration, among other vehicle telematics data, for real-time driver behavior analysis and to simplify insurance filing and maintenance schedule planning.
The VTC 1020-PA is designed to elevate passenger satisfaction and bus operations for public transport. To create a positive passenger experience, the vehicle terminal can support three displays to show destination and passenger information inside and outside a bus, and support audio announcement for drivers to communicate with onboard and boarding passengers. In addition, the VTC 1020-PA enables dispatchers to talk to drivers in case of any incidents, track bus locations to reduce bus bunching, and monitor drivers' behavior to reinforce driving guidelines for safety and comfort. Also, the VTC 1020-PA can be used on school buses to ensure buses steer on course and provide parents estimated time of arrival for pick-up arrangement.
The EN50155-compliant nROK 1020-A addresses the special needs of rail transport. As a vehicle terminal, the nROK 1020-A can monitor passenger cars for doors being ajar, attempts to open emergency exits, and rising temperature. To allow actions to be taken, the nROK 1020-A can communicate the unusual conditions to an operator's console over a closed-loop train network or report to a control center over 3G/LTE networks. At the same time the nROK 1020-A can run passenger signage applications, showing passenger information on two displays.