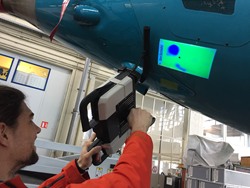 dentCHECK is the new gold-standard against which all dent-mapping tools will be compared in the future.
Englewood, Colorado & Konstanz, Germany (PRWEB) December 01, 2016
8tree's dentCHECK® tool is now published in the Airbus Tool Equipment Bulletins (TEB No: 320-A3497, 300-A3327, 340-A3505 and 380-A3351). This serves as Airbus' formal endorsement of dentCHECK as an approved tool for use by all Airbus operators – airlines and MROs – worldwide.
This listing in the Airbus TEB marks the completion of a rigorous process which began with Airbus' certification of dentCHECK performance and accuracy, at the French National Laboratory for Metrology and Testing (LNE) in February 2016.
"Demand for dentCHECK from airlines and MROs has been positively overwhelming, and a strong reinforcement of our vision to create a tool built-from-the-ground-up to serve the aviation industry's needs," said Arun Chhabra, CEO of 8tree. "We are very grateful that with these TEB publications, Airbus has responded to the global airline community's requests for dentCHECK. To the best of our knowledge, dentCHECK is the first and only truly portable and operator-friendly 3D measuring tool approved for dent-inspection on Airbus aircraft. dentCHECK is the new gold-standard against which all dent-mapping tools will be compared in the future."
During the past 18-months, several commercial airlines, cargo carriers and MROs have been implementing dentCHECK to improve their operational efficiency. TAP-Maintenance & Engineering (TAP-M&E), a global provider of comprehensive heavy-check MRO services, recently published a case-study detailing more than 90% reduction in dent-mapping and reporting times as a result of their adoption of dentCHECK. Since implementing dentCHECK at its Brazil MRO operations last year, TAP-M&E can now conclusively inspect dents and create SRM-compliant dent reports at an effective rate of 240 dents per man-hour-day. This compares to TAP-M&E's previous industry-leading effective rate of 16 dents per man-hour-day using traditional mapping methods. TAP-M&E formally presented these findings at the 59th annual Airlines For America (A4A) NDT conference in San Diego in Sept 2016.
dentCHECK is a handheld, portable 3D surface inspection tool that delivers simple 1-button dent-mapping & corrosion blend-out analysis, which are presented as instantly actionable SRM-compliant and easy-to-understand 'go/no-go' color-coded results. In just a few seconds, dentCHECK calculates reliable and consistent A / Y measurements.
As a completely self-contained and fully networked tool, dentCHECK can seamlessly transfer inspection results to an airline/MRO's secure servers using its built-in WiFi / USB capability. This allows engineering teams to rapidly generate detailed dent-reports using 8tree's unique SRM-compliant 1-Click Analysis Report™ capability. In addition to A/Y measurements, the report equips operators with other critical information, including, numerically annotated deformation color-maps, distance to next frame/stringer, and detailed measurement logs (zone #, time-stamp, operator ID, part ID, etc.) to facilitate quick SRM compliance that is tailored to an airline's specific requirements.
With 8tree's patented product design and augmented reality presentation of results directly on the surface of the aircraft, The Surface Becomes The Screen™. As with all 8tree products, user-programming and surface preparation (stickers, etc.) are never required. dentCHECK has been shipping to major airlines since last year.
dentCHECK empowers aircraft maintenance operations with first-of-its-kind objective and consistent dent-inspection results. This reduces aircraft Turn-around-Time (TaT), which in turn reduces lost revenues and improves operational efficiency for airlines. dentCHECK enhances safety through an improved understanding of airframe reliability.
About 8tree
8tree makes 3D optical surface inspection tools that solve chronic problems for multiple industries. 8tree's products empower every operator – from mechanics on the floor, to engineers in the lab – with precision measurement, portability and performance. With its patented user-centric product design, instant 'go/no-go' answers and zero-learning curve, 8tree is committed to making precision 3D scanning more broadly accessible – technically and commercially.
For more information, visit us at http://www.8-tree.com.