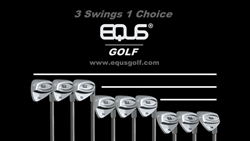 "Imagine, playing a round of golf where the only irons you used are the three you took to the practice range."
Austin, Texas (PRWEB) December 01, 2016
The EQUS A-1 is a revolutionary new cavity back mid-sized iron made from soft 431 Stainless Steel. Its unique design, offered in identically matched combinations of three progressive lengths, features a 100% CNC precision milled face and grooves, progressive offset, bounce and swing weight. This elegantly engineered iron set is MOI matched while maintaining standard lies and weights. The A-1 clubs conform to the Rules of Golf and present a unique customizable selection for golfers of all levels of play.
The first 200 pre-release sets become available starting December 1st with subsequent orders being processed for planned March 2017 deliveries. All EQUS Golf clubs are built to order and hand assembled in Austin, Texas by Jeff Sheets Manufacturing. All sets utilize premium after-markets shafts, grips and optional custom length and lie.
With a passion for science and engineering, this team believes that conventional iron designs can create barriers to consistent, repeatable ball striking. Unlike traditional length irons requiring up to nine different swings, EQUS Golf's matched combinations reduces this to three, thereby preserving the qualities of traditional iron sets. This design allows an easy transition to a modified single length system, resulting in a more consistent, easier iron set to play.
EQUS Golf's patent pending design has been validated by six years of research, testing and development as well as independent robotic and player testing by Golf Laboratories. Featuring unique loft progressions allowing consistent gapping between clubs as well as a identical CG location behind the club face, these Next-Gen irons, providing a consistent contact surface thereby improving consistency and ball striking ability.
As with recent single length iron releases, EQUS irons have challenged the standards of golf and stepped "outside the box". Its correlated specifications make this model easily distinguishable from other products on the market today. Conceived in Arizona, designed in the cloud and based in Texas, EQUS Golf will focus on direct to consumer sales and service.
Please visit the newly designed website at http://www.equsgolf.com, sign up for the EQUS Golf Newsletter and view The EQUS Golf Story.