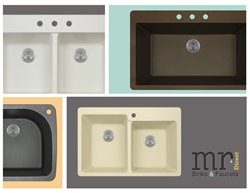 MR Direct is pleased to announce that four of their current undermount models are soon going to be available in topmount styles
Toledo, Ohio (PRWEB) January 17, 2017
Due to their growing popularity, and the suggestions of customers, the TruGranite collection of composite sinks from MR Direct is about to undergo an expansion. For some time, MR Direct has been receiving requests for topmount versions of their TruGranite sinks. Until now, all six models, each available in six colors, have only been offered for under-the-counter installation. Today, MR Direct is pleased to announce that four of their current undermount models are soon going to be available in topmount styles.
Topmount is the easiest installation method. It is most popular with laminate countertops, which would otherwise show their bare core along the cutout edge. Some use a topmount sink with stone counters to protect the cut stone edges from the possibility of chipping. Topmount TruGranites will be created from the same blend of quartzite and acrylic in an 80/20 ratio. This combination results in a durable material, extremely well-suited to being formed into a kitchen sink. All of these basins can withstand water temperatures up to 550°, far beyond the 212° boiling point of water. Further, they are resistant to staining and scratching. Even the acrylic component acts as a sound dampener making these sinks very quiet.
MR Direct is also pleased to announce that two very practical accessories are being added to the TruGranite line – custom-fitted, real-wood cutting boards and stainless steel grids. MR Direct cutting boards feature beautiful woodgrain patterns and, even more importantly, are naturally-resistant to moisture, molds, and fungus. Each board fits over the sink and has a groove along its perimeter to channel any runoff. They are lightweight, easy to handle, and save valuable countertop space.
MR Direct grids help protect the sink surface from any abuse and add a food preparation area to the basin. Because the grid sits slightly higher than the bottom of the sink, remnant water is not able to contaminate food resting on it. Each grid is made of durable stainless steel, has removable rubber feet, and is dishwater safe.
To check out all TruGranite sinks and accessories, or any of the other extensive MR Direct lines of sinks and faucets, simply visit http://www.MRDirectint.com.