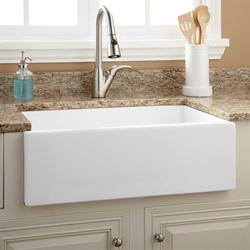 ...sinks with an ultra, high-gloss appearance, a nostalgic air, and unmatched durability.
Toledo, Ohio (PRWEB) January 30, 2017
At first glance, one may be tempted to assume that the new sinks being introduced by MR Direct are the same vitreous china used in their collection of bathroom sinks; but that is not quite true. These are fireclay sinks. They are constructed, like porcelain, of clay that is glazed and baked in a kiln. But these sinks are fired at a much higher temperature than standard porcelain, and they are patterned after the style of farmhouse sinks of yesteryear. The result are sinks with an ultra, high-gloss appearance, a nostalgic air, and unmatched durability.
MR Direct is introducing several new fireclay models. Each is made of the same premium clay formulation and formed with an apron-style front. The differences are seen in their size and configuration, but each has a distinctively smooth, prominent facade.
Fireclay sinks originated in England as early as the 17th century. Their design was later modified in France when a bold apron front was incorporated. This general appearance of fireclay continued into the kitchens of the United States until the roaring twenties of the 20th century; when porcelain-coated, cast-iron sinks became the fashion. Today there is a resurgence of interest in the fireclay material and design. An apron sink always becomes the focal point of any kitchen in which it is installed; but with fireclay there is a striking presence that is impossible to miss.
Being fired at temperatures well over 1800 degrees, which is at least 400 degrees higher than the point at which most standard porcelain is baked, the clay and glaze fuse into an amazingly strong substance. Its extremely-hardened gloss finish is simply stunning; and it is non-porous, so it will not scratch or chip. Neither will it react to hot or cold, acidic or alkaline foods. Fireclay sinks are made to last, but be aware that due to their heft, special support may be required when they are installed.
Review each of the new fireclay sinks in depth, as well as the full collection of MR Direct sinks and faucets, when you visit http://www.MRDirectint.com.