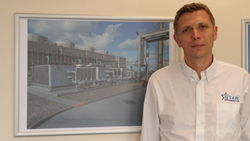 By sharing our knowledge and experience of future proof refrigerants for small industrial refrigeration applications, I hope to highlight the important role they play in providing efficient cooling in a range of environments
(PRWEB) November 30, 2016
The Institute of Refrigeration has a national reputation as the knowledge hub for the refrigeration and air conditioning industry. Founded in 1899, it is now an independent charity and an educational and scientific body with a membership of 3,000. The institute regularly organises events, conferences, and webinars for its members to discuss elements of the refrigeration industry in detail.
Presenting his paper entitled 'Refrigeration Choices for the Future – Small Industrial Refrigeration Applications', Dr Lamb will shed light on the best refrigerant choices and replacement alternatives to HFCs for small industrial refrigeration systems.
Dr Lamb's paper aims to aid end users and contractors to select the optimum refrigerant for their application. Small refrigeration systems with capacities of up to 300kW for medium temperature (MT) and high temperature (HT) and up to 150kW for low temperature (LT) applications are often overlooked when discussing the future of refrigerants.
"By sharing our knowledge and experience of future proof refrigerants for small industrial refrigeration applications, I hope to highlight the important role they play in providing efficient cooling in a range of environments. This seminar is the perfect opportunity to discuss relevant industry topics and help businesses understand the various refrigerant options available".
At the seminar, Dr Lamb will be joined by David Everington, who will be delivering a paper titled 'History of Food Freezing Engineering in the UK'. Both topics are set to be greatly received by a large number of attendees and other members who will join the conversation via live webinar.
In a separate speech Dr Lamb will talk about his experience of getting to Engineering Council Charter Status through the IoR in the hope it provides guidance to any future undertakers. He will highlight the benefits of becoming a Chartered engineer and will be on hand to offer advice.
The industry event will take place on 1st December at 5pm. The location is the Arden Hotel, Coventry Road, Solihull, B92 0EH.
To find more information about the seminar or to register free for the event or the webinar, go to:
http://www.ior.org.uk/food-and-industrial-refrigeration-overview .