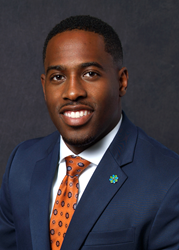 DOYLESTOWN, Pa. (PRWEB) November 30, 2016
Penn Community Bank is pleased to announce that K. Bernard Tynes has joined the organization as Retail Sales Manager.
Bringing more than a decade of experience in the financial industry, Tynes is responsible for the sales and service aspects of Penn Community Bank's retail network across Bucks County. He'll be in charge of leading and developing the company's retail sales and service initiatives. He will have frequent contact with customers and team members to gather feedback and provide tools and programs that enhance the overall customer experience and retail sales strategy at the bank. He also will work with vendors who support the branch offices, and will focus on team member training.
"Providing our customer with the best possible experience is our top priority at Penn Community Bank, and we are fortunate to have Bernard on our team, ensuring that we meet and exceed that goal every day," said Jacob Iampietro, Director of Retail Banking.
Prior to joining Penn Community Bank, Tynes served as regional vice president for a large Philadelphia-area bank, where he was responsible for all aspects of the management, coaching and leadership of 14 branch offices.
A resident of Avondale, Pennsylvania, Tynes earned a bachelor's degree from Goldey-Beacom College in Wilmington, Delaware.
About Penn Community Bank – Penn Community Bank holds more than $1.8 billion in assets and employs more than 300 people at 22 bank branches and two administrative centers throughout Bucks County, Pennsylvania. As an independent, mutual financial institution, Penn Community Bank is not publicly traded and operates with its long-term mission in mind: to help businesses grow and prosper, to support individuals and families throughout their lifetimes, to strengthen the local economy, and to partner with local organizations to act as a catalyst for positive growth in every market it serves.
# # #