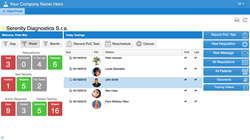 We received great feedback from the early adopters of LimitLIS® and have used it to drive feature development for version 2.1.
Frederick, MD (PRWEB) November 30, 2016
RURO, Inc., a leading LIMS, RFID and sample management solutions provider, announces the release of LimitLIS® version 2.1, after two productive and successful quarters since the initial product release. The new version of RURO's Laboratory Information System provides support for new integrations with instruments, billing providers, and EMR/EHR services along with numerous other new features and enhancements.
LimitLIS® is deployed at toxicology, pathology, phlebotomy and other clinical laboratories around the world. Customer adoption of LimitLIS® met RURO's objectives for number of deployments and average speed of implementation. As a result, this first set of upgrades and updates is already available and content rich.
The first category of enhancements to LimitLIS® are integrations with hardware (instruments), billing providers, and EMR/EHR services, including:

Olympus AU480 Chemistry Analyzer (bi-directional)
BioFire FilmArray PCR
Telcor
ZenCharts
Additionally, LimitLIS® v2.1 includes new features, enhancements to existing functionality, and bug fixes. Key system enhancements include:
Custom requisition forms
Support for outsourced tests and reference laboratory results
Additional result report templates
"We received great feedback from the early adopters of LimitLIS® and have used it to drive feature development for version 2.1," says Sasha Brocato, LimitLIS® Product Manager. "Users are thrilled by the system's ease of use and feature set. We are incredibly excited about the future of this solution."
For more information on LimitLIS®, visit http://www.limitlis.cloud/ to download the white paper, watch product videos, and request a demo or quote. You can speak to a sales representative at (888) 881-7876. LimitLIS® is a RURO solution powered by the Limfinity® framework. For additional information on Limfinity®, go to https://ruro.com/software/limfinity
About RURO, Inc.
Founded in 2006, RURO specializes in Laboratory Information Management and RFID Solutions. RURO's Limfinity is the informatics centerpiece in many of the world's leading Translation Science programs and Biobanks. RURO's RFID Solutions meet critical inventory management, tracking and security needs. RURO is Laboratory Information Bliss. Visit RURO at ruro.com for more information.
# # #