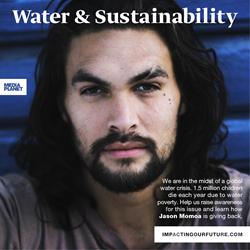 Innovations in technology have pushed the industry towards the greatest advancements of our time: but we still have work to be done
New York, NY (PRWEB) November 30, 2016
Mediaplanet today announces the multiplatform distribution of "Water & Sustainability," encouraging readers to take initiative in their homes, local communities and support technological advancements working to solve our international issue with water and sustainability. Innovations in technology have pushed the industry towards the greatest advancements of our time: but we still have work to be done.
The print component of "Water & Sustainability" is distributed within this Wednesday's edition of USA Today in New York, Washington D.C., Baltimore, Chicago, Detroit, Las Vegas and Los Angeles with a circulation of approximately 250,000 copies and an estimated readership of 750,000. The digital component is distributed nationally through a vast social media strategy and across a network of top news sites and partner outlets. To explore the digital version of the campaign, click here.
Jason Momoa, warrior on and off screen, shines on the front cover of the print publication. Through an in-depth and exclusive interview, he urges readers to become involved in their own local water projects. Atlanta rap native Michael Render aka "Killer Mike" drills deep into his passion for Atlanta's 300 million dollar quarry endeavor. "It's been the highlight of my year," explains Render, an Atlanta native and philanthropist. "I strut with a different step, knowing there's a drill named for me."
This campaign was made possible with the support of Viqua, charity: water, Pentair, Jason Momoa, 3M, Speakman, the U.S. Water Alliance and many more.
About Mediaplanet 
Mediaplanet is the leading independent publisher of content-marketing campaigns covering a variety of topics and industries. We turn consumer interest into action by providing readers with motivational editorial, pairing it with relevant advertisers, and distributing it within top newspapers and online platforms around the world.