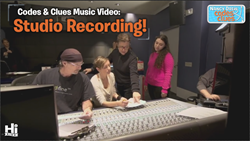 Penny Milliken, CEO of HeR Interactive, explains that, "The lyrics reveal how Nancy Drew is such a positive role model for today's young girls."
New York, NY (PRWEB) December 01, 2016
For the first time, a modern-day Nancy Drew character is brought to life through the new interactive game from HeR Interactive, a multi-award winning mobile game and software company based in Bellevue, WA. HeR Interactive partnered with the Berklee College of Music and DMI Music & Media for a songwriting contest to encourage student songwriters to create an original theme song for the new mobile game, Nancy Drew Codes & Clues, where this modern day de-TECH-tive uses 21st century technology skills to solve a mystery. As part of the process to create a special song for this iconic character, it was important for HeR Interactive to show the use of coding, technology and STEM in today's music creation process. The music video for the song will also be released on December 1, 2016.
Girls and technology are a passion for Penny Milliken, CEO of HeR Interactive. Milliken explains that, "The lyrics reveal how Nancy Drew is such a positive role model for today's young girls. As we introduce Nancy Drew to a whole new generation of children, we hope this game inspires and sparks an interest in STEM and that the song plays an important element in creating that interest."
Berklee student, Ana Tish, was selected out of hundreds of submissions as the winning songwriter for the mobile game's theme song. Tish was flown to DMI's Firehouse Recording Studio in Los Angeles to work with DMI Music & Media CEO/CCO, Tena Clark, who is also a Grammy Award-winning producer and composer for Aretha Franklin, Natalie Cole, Leann Rimes, Dionne Warwick, Patti LaBelle, Chaka Khan and many others. Singer Sofia Mazursky recorded the vocals for the song, and is featured in the music video for the song.
"Working with Ana was such a rewarding experience, and it meant a great deal to me that we at DMI, along with HeR Interactive, were able to partner with such a promising young woman to achieve her goals," says Clark. "Music has the opportunity to enrich the gaming experience, as it mirrors what's happening on the screen and connects emotionally with the players. It was wonderful to mentor Ana throughout this project, and also provide a real world in-studio experience. The final song truly captures the excitement of the game."
"We are delighted that HeR Interactive offered this opportunity for our students. Our Women, Technology and Creativity program highlights the application of computer science in creating music," said Bonnie Hayes, Chair, Songwriting Department at Berklee College of Music. "The firsthand experience to work with a brand and create a song that captures an iconic character like Nancy Drew is so beneficial to our students."
"Tech is a huge part of my studies," says Tish. "It really is what started my passion for songwriting because I could open up the music software on my computer and play with loops and have fun."
In Nancy Drew: Codes & Clues, children are introduced to the basic principles of coding to inspire STEM studies and careers. They learn two basic structures of coding: sequences and loops. The story-driven hidden object game centers around a mystery at a tech fair where Nancy and her friends, along with robot puppy, engage players by using coding basics to solve the mystery.
An animated version of the music video will premiere on the Kid Genius Cartoon Network on XFINITY's next-gen X1 platform and BatteryPop.com on December 1, 2016. The "Nancy Drew: Codes & Clues" single is also available across all major digital distribution channels, including iTunes, Amazon Music and Spotify. The music video is available on the Nancy Drew: Codes & Clues YouTube channel.
Nancy Drew: Codes & Clues mobile mystery game is great fun for kids and geared to early learners 5+. It is available for iOS and Android devices in the App Store, Google Play and Amazon app store for $3.99. Learn more about Nancy Drew: Codes & Clues at http://www.NancyDrewCodesandClues.com/.
About HeR Interactive:
Based in Bellevue, Washington, HeR Interactive was a pioneer in 1998 when it began developing and publishing Nancy Drew interactive games for females. Since then, the company has released over 32 games, won 30 Parents' Choice awards and has sold more than 9 million copies of its games. Nancy Drew players now include moms who have introduced their daughters to the girl detective, making her one of history's longest-running iconic figures spanning generations. More information about the company and Nancy Drew games can be found at http://www.herinteractive.com.
About Nancy Drew:
Nancy Drew debuted in 1930 and is still going strong. She is a smart, confident, kind and resourceful teen detective who can crack even the toughest case. Published in 22 languages and with more than 100 million copies in print worldwide, Nancy Drew has engaged readers and served as a role model globally for generations.
About DMI Music & Media
Founded in 1997 by CEO and Chief Creative Officer Tena Clark, DMI Music & Media develops and executes comprehensive music branding strategies and programs using the emotional power of music to connect brands to consumers. The company is headquartered in Pasadena, CA, with offices in Atlanta and San Francisco. DMI Music & Media's unique solutions and creative executions create campaigns for global brands that break through to today's media-savvy consumers.
About Berklee College of Music
Berklee was founded on the revolutionary principle that the best way to prepare students for careers in music is through the study and practice of contemporary music. With a diverse and talented student body representing 96 countries, and alumni who have collectively won more than 250 Grammys and Latin Grammys, Berklee is the world's premier learning lab for the music of today—and tomorrow.
Copyright © 2016 HeR Interactive, Inc. HER INTERACTIVE, the HER INTERACTIVE logo, DARE TO PLAY, and CODES & CLUES and HI KIDS are registered trademarks of HeR Interactive, Inc. NANCY DREW is a registered trademark of Simon & Schuster, Inc. Licensed by permission of Simon & Schuster, Inc.