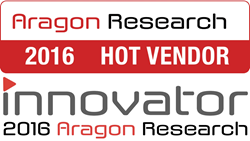 Our 2016 Innovation Awards recognized those providers who have excelled in their markets.
Palo Alto, California (PRWEB) December 02, 2016
Aragon research, a technology-focused research and advisory firm committed to providing thought leading strategic research and trusted advisory services, held its second annual awards ceremony for its 2016 Hot Vendors and Innovators on Thursday, December 1st, 2016. The awards ceremony took place at the Pullman Hotel in Redwood City, California and recognized 74 Hot Vendors and 16 Innovators across multiple categories.
Winners of the Hot Vendors awards were selected because they offer a new technology that expands capabilities, a new strategy that opens up markets, or just a new way of doing business that makes them worth evaluating. Innovation award winners were lauded for taking risks to guide their markets in a new direction, and are seen as being ahead of their peers.
"Identifying new emerging technology providers who are making a difference isn't easy, but our 2016 Hot Vendors are poised to impact the markets they participate in and give incumbent providers a run for their money," said Jim Lundy, CEO and Founder of Aragon Research. Lundy continued, "Our 2016 Innovation Awards recognized those providers who have excelled in their markets by offering solutions that are intuitive and easy to use, and many are leveraging new technology in unique ways that others have been slow to adopt."
The 2016 Hot Vendors are as follows, in no particular order:
Enterprise Video: uStudio, Haivision, Sonic Foundry, Vidyard
Sales Enablement: Insite Software, Pitcher, Allego, Accent Technologies, Datahug
Digital Transaction Management: ContractRoom, Liveoak Technologies, Intelledox, Safedocs, ThinkSmart, Nintex
Mobile Content Management: AeroFS, eFolder, Acronis, Vera
Webinars: BrightTALK, JetWebinar, ReadyTalk
Video Conferencing: Videxio, StarLeaf, TrueConf, OneScreen
Business Process Management: Ivis Technologies, Trisotech, Q9 Elements, Signavio, Work-Relay
Social Collaboration and Work: Bolste, BraveNew, Carii, Stream WorkSpace
IoT: Devicify, Placemeter, ClickSoftware, PTC, Silver Spring Networks
Digital Business Platforms: iVEDiX, Compsim, Bonitasoft, TimelinePI, ITESOFT-W4
Sales Engagement: DocSend, Optymyze, Illumineto
Learning: D2L, Degreed, EdCast, Zavango,Tasytt, TWIL
Big Data and Predictive: H2O.ai, DataSift, IPSoft, ThinAir
Content Marketing and Engagement: Pressly, ScribbleLive, Skyword, Synap
Unified Communications and Collaboration: IR.com, Yorktel, Utelogy, Fuze
Unified Communications and Collaboration PaaS: Agora.io, Bandwidth, Plivo
Talent Management: The Muse, Brazen, Entelo, Jellyvision
Audio Conferencing: DialPad/UberConference, FreeConferenceCall.com
The 2016 Innovation Award Winners are as follows:
Cognitive Digital Business Platform: IBM
IoT: Pega
Customer Journey Mapping: Touchpoint Dashboard
Cloud Office: Bolste
Best mobile app: Bigtincan
Video: Polycom
Digital Transaction Management: Seal Software
Workflow and Content Automation: Nintex
Mobile Content Management: Box
Video Content Management: uStudio
Sales Engagement: Clearslide
Talent Mobility: MOVE Guides
Cognitive Talent Management: IBM
UCC: Cisco Systems, Inc.
Collaboration: SAP
AI based CRM: Salesforce
About Aragon Research
Aragon Research is the newest technology research and advisory firm. Aragon delivers high impact interactive research and advisory services to provide enterprises the insight they need to help them make better technology and strategy decisions. Aragon Research serves business and IT leaders and has a proven team of veteran analysts. For more information, visit https://www.aragonresearch.com