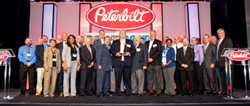 The Larson Group was awarded for its exceptional customer service, Peterbilt truck parts specials, and 24 hour truck service shop at the 2016 PACCAR Parts and Peterbilt Motors Company Parts and Services Meeting in Orlando, Florida.
Springfield, Mo. (PRWEB) December 02, 2016
Peterbilt service dealer The Larson Group (TLG) was recently honored for its dedication to customer service at the 2016 PACCAR Parts and Peterbilt Motors Company Parts and Service Meeting in Orlando, Florida. The meeting celebrated dealers who have made outstanding achievements in various programs and services, including commercial truck repair. Performance criteria was based on retail sales growth, as well as parts purchase growth, absorption, technician staffing and service.
A leading provider of Peterbilt parts and accessories, TLG won the "Best In Class Parts and Service Dealer of the Year" award, and one TLG dealership, Mid-America Peterbilt–O'Fallon, won the "Midwest Region Service Excellence Dealer of the Year Award" and the 2016 "North American Service Excellence Dealer of the Year Award". The Peterbilt dealership beat out over 350 other dealers in six regions for its unparalleled dedication to service.
"PACCAR Parts is proud to recognize dealers that have demonstrated excellence in parts operations and customer service," said David Danforth, PACCAR Vice President and PACCAR Parts General Manager. "They embody our dealer network and continuously exceed customer's needs," he added.
The Larson Group has gained additional recognition for its Peterbilt truck parts specials that are exclusive to TLG locations, which has helped the company further establish its reputation for providing the best in price and quality.
"Customer satisfaction is very important to both Peterbilt and The Larson Group," said Mike Conroy, Peterbilt Director of Field Service. "We take the time to thoroughly review the customer satisfaction reports and surveys we send out, as well as TLG surveys. The response for the TLG dealer group specifically made it very apparent how much the dealership values its customers."
With the launch of the 24 hour service call center, TLG Guru, TLG reduced repair time and expedited service by improving communication between fleet owners, managers, and repair facilities. In addition, TLG's 24 hour truck service shop reflects the company's most recent strategy to exceed customer needs. After taking stock of the demands for on-site maintenance, the Mid-America dealership expanded its hours to 24/7 and boosted the maintenance program itself by going directly to major fleet businesses in order to service its vehicles in the St. Louis, Mo. area.
TLG Service Manager Mike Paganini was instrumental in TLG's nomination for "Midwest Region Service Excellence Dealer of the Year Award" for his exemplary service to TLG's successful apprenticeship program. As Customer Service Manager, Paganini contacted every customer who had repairs completed at Mid-America Peterbilt to make sure all were fulfilled to the customer's satisfaction. After seeing the demands for on-site maintenance, Paganini contacted national fleet accounts in the area to assist them with service repairs.
"Mike is a model for our company culture of supporting and promoting talent from within," said Glenn Larson, TLG President and Dealer Principal. "His career with us began as an apprentice technician, and he's worked in every level of service all the way up to Service Manager. TLG is immensely proud of Mike's nomination and representation of the excellent customer service experience we offer our customers."
About The Larson Group Peterbilt
The Larson Group has been providing quality Peterbilt products and exceptional service across the Midwest for more than 25 years. TLG has built teams of qualified, highly-trained professionals to provide customers with the best service for their commercial transportation needs at 18 Peterbilt facilities located across Arkansas, Illinois, Indiana, Kentucky, Missouri, North Carolina, South Carolina and Ohio.
For more information about The Larson Group's Peterbilt parts inventory or to experience its exemplary customer service first-hand, call 417.865.5355, visit TLGtrucks.com or contact Barbie Langston at blangston(at)tlgtrucks(dot)com.