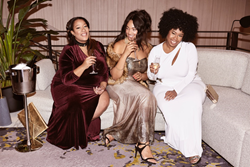 New York,NY (PRWEB) December 02, 2016
Fashion to Figure (FTF) a leading retailer in plus size fashion, specializing in on-trend clothing, shoes and accessories, announces the launch of their first ever holiday capsule collection. Featuring looks hand picked and curated by fashion bloggers Essie Golden and Kelly Augustine, the collection represents a mix of evening gowns, separates, jumpsuits, and party dresses suitable for every holiday occasion.
The "Own The Night" lookbook highlights the collection through a multimedia lens. Videos, GIFs, and Instagram Boomerangs capture the essence of a girls' night out as the ladies take on the streets of New York City during the holidays. Essie and Kelly are joined by their friend, Plus Size model Anita Marshall. Together, the women represent three different sizes and body types.
The collection officially launches Friday, December 2nd and includes 15 key styles. It will be available to purchase both online at FTF.COM and also in store at FTF's 25 brick and mortar locations across the east coast and south.
"Our company was founded on our family's belief from 120 years ago that you should never ask women to conform their figures to fashion but rather, bring fashion to the figure. This capsule collection embodies that. We are thrilled to be partnering with Kelly and Essie, two leaders and trendsetters in the plus community who not only have fantastic style, but have the unapologetic confidence and glamour our brand is all about. We hope this is just the beginning of many collaborative collections to come," said Michael Kaplan, Co-Founder and CEO of FTF.
ABOUT FASHION TO FIGURE
Fashion to Figure (FTF) provides jewelry and accessories at a great quality and price point for women size 12-26. Well known as a leader in special occasion plus size dresses and great fitting jeans, FTF has a passion for providing the very the best fashion experience for the curvy woman. Inspiring people with the belief that, "Fashion is a state of mind, not a size range," is the company mission.
Fashion to Figure was started by the two great-grandsons of Lena Bryant, the visionary dressmaker who created the special-size fashion market in the late 1800's. FTF distributes its fashion through its own 25 physical locations across the country and web site (http://www.fashiontofigure.com), third party digital marketplaces, traditional wholesale partners and box subscription partners.