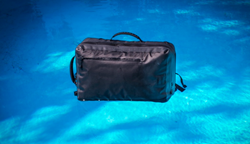 With Capsula, we decided to consider the risk of getting caught in a sudden downpour while carrying your documents and valuable electronics like laptops, tablets and smartphones on the way to an important meeting
Houston, Texas (PRWEB) December 02, 2016
The new Capsula Backpack recently launched by Imagination Farm USA, LLC has quickly become more than 200 percent funded with 18-days remaining in its Kickstarter campaign.
"We are thrilled to have this kind of incredible support," said CEO Massimo Mellano. "Nothing validates an idea and confirms the need for this product more than the support of backers around the world who have pre-ordered our Capsula Backpack."
Mellano says the success of Capsula shows that frequent travelers are ready for a functional bag that's secure, tough and waterproof – but is also stylish, light and comfortable to carry.
"While hard-shell bags on the market today fulfill the function of protection, what about placing them in the tight overhead compartment on a crowded plane?" Mellano said. "Also, traditional bags are seldom waterproof. With Capsula, we decided to consider the risk of getting caught in a sudden downpour while carrying your documents and valuable electronics like laptops, tablets and smartphones on the way to an important meeting. It really meets a need among travelers and anyone involved in outdoor activities."
Packed with protection for valuable items, Capsula is designed to take a beating on the outside and weather all kinds of harsh conditions, while valuables stay protected inside as if they're in a vault.
Capsula is also waterproof, with an inflating valve that turns it into an airbag and makes it shock resistant. During testing, Capsula remained airtight underwater for 30 minutes without leaking.
With its customizable internal compartment system, it's simple to manage optimal weight distribution inside Capsula. Also, thanks to two inflatable and watertight camera and carry/laptop bags inside, Capsula offers double protection. Both bags can be placed separately in the Capsula backpack to provide double, super-secure protection.
Capsula features include:

A thermoplastic polyurethane (TPU) case, 3D and HF welded
An airtight and watertight zipper, which also serves as a safe lock and maintains desired temperatures inside the bag
Two comfortable handles and adjustable shoulder straps so it can be carried as a briefcase
A modular design with an innovative concept of interior space subdivision
Interior color-coded capsules of different sizes, which are all removable and can be worn on the user's waist
A special hook and loop system that guarantees the perfect fixing of the elements inside the bag without the risk of damaging other items stored inside
A stylish design in an elegant rectangular shape
A front pocket that offers easy access to essential items
Capsula is available in a laptop carry package, camera and carry package (both $88), or in its full backpack/sling and briefcase configuration for $169 during crowdfunding – which represents nearly a $100 discount from the future retail price. For more information, visit the Capsula Campaign Page on Kickstarter.
About Imagination Farm USA
Founded in 2013, Imagination Farm USA, LLC is a creative product design company with a young and multicultural team of designers, engineers, architects, artists spread out around the world who work together to develop new ideas and innovative international projects like the holographic pyramids for devices called "Holho" (http://www.holhocollection.com) or the most recent project called "Sospendo" (http://www.sospendo.com) where the company recently raised more than $40,000 on Kickstarter and produced 10,000 units. For more information, visit http://www.c4psul4.com.