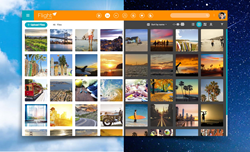 With a complete UI redesign, Flight PHL makes digital asset management more visual, powerful and streamlined than traditional cloud storage platforms.
San Francisco, Calif. (PRWEB) December 06, 2016
Seeking to displace the use of online tools such as Box and Dropbox as marketing technologies for visualizing and managing brand assets, Canto today announced Flight PHL, a new release of Flight by Canto, its popular cloud-based media library for marketing teams.
The SaaS digital asset management (DAM) solution includes a refreshed user interface with upgraded features, such as a new Masonry Grid Layout View, which gives Flight PHL users a faster, more clear view of their brand assets than traditional cloud storage platforms. To improve privacy controls, Flight PHL introduces a new private collaboration Workspace feature that facilitates secure sharing of images, videos and other visual content. Light and dark themes available in Flight PHL allow teams to further brand their media library for on-brand user experiences in-house and via distribution Portals.
"Box, Dropbox and other cloud storage platforms are fine for business users in need of a simple file sharing or storage solution, but they lack features for visualizing and organizing brand assets to create better marketing workflows," said Leslie Weller, director of marketing, Canto. "Flight PHL, featuring a complete UI redesign, makes DAM more visual, powerful and streamlined—offering marketing teams an easier and more intuitive approach to brand asset management than anything else on the market today."
Flight PHL gives marketing teams a centralized online location for sharing, storing, searching and collaborating on essential brand assets, including capabilities for cropping images on-the-fly and relating assets to associate them with one other. The enhanced UI allows greater control over permissions, enabling marketers to better manage who can see what across their media library.
Flight Delivers Advantages of Digital Copyright Protection
In an era in which the use of unlicensed images can translate into millions of dollars in lawsuits, not to mention a loss in brand trust, Flight PHL also offers organizations another advantage over traditional cloud storage platforms: digital copyright management capabilities.
With Flight PHL, assets can be shared with granular insight into copyright details such as expiration dates, terms and conditions, watermarking and more. Flight PHL users can also relate assets under management, such as linking a model release form (a signed contract/PDF file) to the associated photo. In-app notifications keep marketing teams aware of changes and updates throughout the entire content lifecycle.
Flight PHL also allows content to be shared through multiple platforms, including Slack; to social sites such as Facebook and Twitter; and through restricted portals.
Lastly, the software also includes a number of enhancements to branded portals, which are designed for use by external teams such as agency partners and clients.
University's Creative Team Organizes Thousands of Files with Flight
The creative team at Furman University, a private liberal arts college in Greenville, South Carolina, originally stored their image photo library on Flickr, with support from local drives. The image-hosting site proved to be less than ideal for their needs, so they turned to Flight to gain a cloud-based central repository with better search, tagging, navigation and organization options.
"With the ability to store any file type, Flight has made locating and sharing assets so much easier for us," said Kaylee Welgraven, a graphic designer for Furman University. "We can categorize assets in folders and albums, include descriptions, link to similar assets, set expirations and collaborate on files. These and many other features, along with Canto's competitive pricing, make Flight a game-changing tool. We're excited about Flight PHL and believe it will give us an even more powerful and visual way to experience our brand assets."
Canto will hold a webinar titled "What's New in Flight PHL" on Dec. 20 at 10 a.m. Pacific. To register, click here. For further information, visit canto.com. To start a free Flight trial, visit canto.com/flight/signup/.
About Canto
Canto is committed to innovation, with a focus on delivering digital asset management (DAM) software and services that solve customers' ongoing brand asset challenges. Founded in 1990, Canto is an industry pioneer and leader, helping more than 2,400 customers worldwide efficiently secure, repurpose and distribute brand assets. Canto's offerings include Flight, its SaaS DAM solution for teams and Cumulus, to solve sophisticated enterprise-wide DAM scenarios. Supported by a global partner network, Canto is based in San Francisco (USA), Berlin and Frankfurt (Germany). For more information, visit Canto.com.