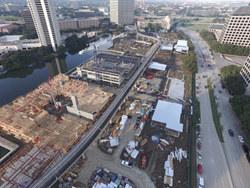 Dallas, Texas (PRWEB) December 05, 2016
Gables Residential has executed new leases for its proposed Las Colinas development, Gables Water Street, located in the Las Colinas Urban Center at O'Connor Boulevard across from Williams Square. Recent lease activity includes regional favorites such as: Olivella's Neo Pizza Napoletana, Twisted Root Burger Co., Castle Nails Spa, GQ Tailor, Barcelona Taco Bar, Main Street Bistro & Bakery, The Londoner Pub, Planet Sub, Grabbagreen, Go Fish Poke and Café Herrera.
Gables Water Street, a mixed-use community, will showcase over 60,000 square feet of retail shops and restaurants in the first phase. Restaurants and retailers are scheduled for a holiday 2017 or early 2018 Grand Opening. With the variety of dining and shopping, Las Colinas will promote an environment conducive to pedestrians, outdoor patios, and an overall sense of place. The proposed community includes a park for special events, such as a farmers market or festival, and pathways for the public to enjoy access and views of Lake Carolyn.
Darin Botelho, Vice President of Retail with Gables Urban, the retail division of Gables Residential stated, "The merchandising plan has focused on regional best-in-class retailers and restaurants that will draw people from the greater Dallas area to one of the only waterfront dining experiences in the metroplex."
As the developer, Gables Residential is working with WDG Architecture, the architect of record. Studio Outside will be the landscape architect in conjunction with Kimley-Horn as the Civil Engineer and Jordan-Skala handling MEP. SJL Interiors was awarded the interior design.
"Gables Water Street will become the go-to destination for our residents, the local community and visitors. Not only will we showcase top restaurants and retailers, but we also plan to offer leisure services and water activities to truly maximize the waterfront appeal," commented Katy Slade, Development Director for Gables Residential. "Our residents want to live in great places that offer conveniences while maximizing a unique city living experience. Water Street will make this happen."
# # #
About Gables Residential
Gables Residential is an award-winning, vertically integrated, real estate company and privately held REIT specializing in the development, construction, ownership, acquisition, financing and management of multifamily and mixed-use communities. Gables Residential owns, develops and manages communities in high-growth U.S. markets such as Atlanta, Austin, Boston, Dallas, Denver, Houston, South Florida, Southern California and metropolitan Washington, D.C. Gables also provides third party management services in the New York, Baltimore, Frederick, Tampa, Phoenix, Seattle, Charlotte, Central and North Florida markets.
Gables manages over 31,000 apartment homes and approximately 550,000 square feet of retail space and has received national recognition for excellence in development, construction, management, sales, marketing, learning and development, benefits and corporate accommodations. These achievements reflect the impact of our experienced and dedicated team members, our superior knowledge of the markets served, and our expertise in development and management.