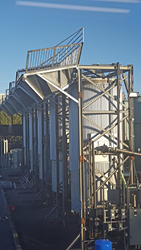 "The combination of PRTI's distributed energy resource production of green power and the EnergyNet® software suite is one of the first true implementations of transactive energy services for the new distributed electric power grid."
Franklinton, NC, USA (PRWEB) December 06, 2016
PRTI will utilize Causam's EnergyNet® software platform to sell its distributed energy back to the power grid through local utilities and open regional energy markets across North America. Causam Energy announced the commercial release of its EnergyNet® Distributed Energy Resource transactional platform in September, 2016. This multi-year partnership between two rapidly expanding North Carolina companies includes a combination of shared strategic goals and associated investment and vision about the future.
Jason A Williams, President and CEO of PRTI said, "We are excited to partner with Causam, their CEO Joe Forbes, and the entire team. Causam are natural partners for us as we implement and expand our green energy creation thesis. From waste, to Watts to cents, the Causam-PRTI team can now truly harness and monetize waste materials, starting with car tires." Joe Forbes, CEO of Causam Energy, said "The combination of PRTI's distributed energy resource production of green power and the EnergyNet® software suite is one of the first true implementations of transactive energy services for the new distributed electric power grid."
This announcement also confirms the personal investment in Causam by Jason Williams. Jason explained, "while investigating the opportunity for both businesses to work together, it became a natural choice for me to add Causam to my investment portfolio." The details of the investment were not disclosed.
PRTI and Causam look to support the evolution and growth of the distributed energy resource and microgrid industry by creating a pathway to value for energy system producers, consumers, regulators, utilities and de-regulated energy markets. Joe Forbes, CEO of Causam, commented "The continued growth of Causam relies on key partners like PRTI. PRTI's unique Thermal Demanufacturing is a fantastic way to convert waste into energy, and the EnergyNet® transactional platform will enable the easy monetization of PRTI's environmentally progress production of green power."
Jason Williams is the President and CEO of PRTI. Previously he founded Urgent Cares of America (which became FastMed) in 2001 and developed the initial business thesis. He served as the President and Chief Executive Officer of the company from 2001 until October in 2010. He served on the Board of Directors of FastMed through two Private Equity exits. Jason received his BS and BHS from Methodist University in Cellular Physiology and Allied Health Care in 1998, received advanced training in orthopedics and general surgery at Yale University / Norwalk Hospital in 1999 and received his Masters in Allied Healthcare from the University of Nebraska Medical Center College of Medicine in 2004. He is the recipient of a number of awards and is an active angel investor, including as General Partner of the pre-seed fund Full Tilt Capital, researcher with a number of patent applications pending in demanufacturing and in advanced robotics and board member of several organizations including the Trustee of Methodist University, Louisburg College, PRTI, and is an advisor to Duke University Medical School for their Innovations in Healthcare.
Joseph Forbes is the CEO of Causam Energy and EnergyNet®, the latest portfolio company of Causam Energy. Causam Energy's leadership position in intellectual property, its direct experience with renewables, distributed energy resources and microgrids uniquely positions the company to serve the growing and un-met need for the physical and financial integration of new distributed electric generation assets into the existing energy markets. Mr. Forbes has created five successful technology companies over the past 20 years. Most recently through Causam and Private Equity, he has created four new operating companies focused on the intersection of advanced communications, high availability software, and advanced energy transactions.
Causam Energy, Inc. ("Causam") is a transactive energy platform, intellectual property, and distributed energy resource company focused on the new distributed, transactional electric power grid. Based in Raleigh NC, USA, Causam has created a strategic patent portfolio focused on how the electric power grid and energy markets will inevitably transform. Causam's operating companies include its interest in Power Analytics Corporation, EnergyNet® and EDSA.
PRTI is a tire to energy research, technology and deployment company. Based in Franklinton NC, USA, PRTI has taken established research and has created a process to enable waste streams starting with vehicle tires to be processed into valuable commodities including energy with zero residual waste.
Contact: PRTI - +1 919 307 5940
http://www.prtitech.com