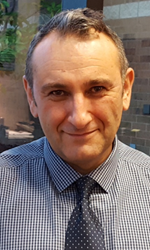 Mentor, OH (PRWEB) December 06, 2016
Roll-Kraft, a leading supplier of tube and pipe and roll form tooling, is pleased to announce the appointment of Yervand Poghosyan to the position of Vice President of Engineering. Poghosyan comes to Roll-Kraft from Dahlstrom Roll Form, where he was the Vice President of Operations. He has held previous positions as CIS Executive Director and Chief Development Engineer for the Harwal Group of manufacturing companies. He was also the General Project Manager, overseeing 55 personnel at Ararat Group in Armenia.
Poghosyan holds a Master's Degree in machine building technology, metal cutting, and machine tools from State Technical University in Armenia. He also holds a Master's Degree in business administration from the University of Liverpool in the United Kingdom. His training includes FESTO Pneumatic Systems, as well as Roll Design and Advanced Roll Design, and he has worked with noted roll form experts, George Halmos and George Dobrev. He is proficient in AutoCad, RH95, and Profil roll design software.
Poghosyan has wide-ranging experience in the roll forming industry and has designed and completed an estimated 100 sets of roll tooling and machines that are in use in various countries around the world. His expertise will add to Roll-Kraft's top-notch technical engineering capabilities and allow Roll-Kraft to provide the highest level of engineering services to the roll tooling industry.
Roll-Kraft has its headquarters in Mentor, Ohio, and maintains other facilities in Lombard, Illinois (Chicago Roll Company); Houston, Texas (Roll-Kraft Texas); and Ontario, Canada (Roll-Kraft Ltd.). Calls to the company's main line, (888) 953-9400 or (440) 205-3100, are greeted by a live operator who can assist callers in quickly reaching a technician, engineer, or sales staff, who can provide immediate assistance. The company's fax number is (440) 205-3110.
Learn more about Roll-Kraft's products and services by visiting the website at roll-kraft.com. For easy and immediate contact with Roll-Kraft that transcends time zones and working hours, simply complete and submit an online form and Roll-Kraft will respond.