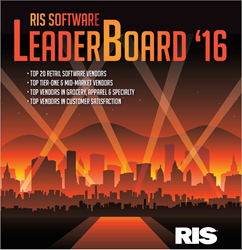 "It is impressive to see the high ratings Reflexis has received 10 years in a row."
Dedham, Massachusetts (PRWEB) December 07, 2016
Retailers have for the tenth year in a row rated Reflexis as the top workforce management software company in the world in numerous customer satisfaction categories in the annual RIS News Software LeaderBoard. Reflexis was also ranked as the #1 Targeted Solution software company for the seventh time and second year in a row. The #1 Targeted Solution ranking is an aggregate score that measures revenue, concentration (up to 20 retail applications), and customer satisfaction. To read the full report, click here
Reflexis was rated by Tier 1 Retailers as the top workforce management software company in the following customer satisfaction breakout categories:

Recommendation
Technology Innovation
Software Reliability
Quality of Support
Quality of Service
Overall Performance
Customer Satisfaction
"For 16 years, the RIS News Software Leaderboard has allowed retailers to rate their vendors in a head-to-head comparison and recognize the best companies," said Joe Skorupa, Group Editor-in-Chief of RIS News. "Almost 300 retail executives participated in the 2016 Software LeaderBoard – ranking retail software vendors in a variety of categories including recommendation, ROI, customer satisfaction, reliability, and innovation. Tech vendors with smaller customer bases have more control to deliver outstanding service and get higher Customer Satisfaction scores. It is impressive to see the high ratings Reflexis has received 10 years in a row, even as they have greatly expanded their customer base since their first appearance in the Software LeaderBoard in 2006."
"While we are gratified by all of our #1 ratings over the years, we are most humbled by our continued high scores in the Recommendation category, how readily executives recommend us to their peers," said Narayana Raghupathy, Senior Vice President, Operations & Professional Services for Reflexis. "Even as we have grown our customer base and company, our consistently high rankings in the Recommendation category reflects the unwavering focus and
attention that we place on understanding and solving our customers' store operations challenges and delivering quality solutions."
"When Reflexis first appeared in the RIS News Software LeaderBoard in 2006, we had eight retailers as customers. Now Reflexis has more than 240 retail brands as customers on five continents," said Brett Friedman, Senior Vice President of Global Sales and Marketing for Reflexis. "In 2016, we continue to gain new customers due to endorsements by executives who were familiar with us from working with Reflexis, sometimes at three or four prior companies. The continued trust by retail executives is a ringing endorsement of our ability to scale our operations and continue to innovate and solve retailers' emergent challenges."
For a retailer's perspective, listen to what Amy DaSilva, HR Communications and Systems Specialist at QuickChek has to say about her company's experience working with Reflexis to improve communication, labor scheduling, and customer service.
About RIS News
RIS News, published since 1988, is read by over 22,000 retail executive decision makers. RIS writes about how retail businesses can benefit through the use of technology. RIS covers Customer Management & Marketing, Store Systems, Enterprise Operations, Supply Chain/Inventory Management, Merchandise Management, and Cross-Channel Strategies. For more information, visit RIS News at http://www.risnews.com.
About Reflexis Systems, Inc.
Reflexis is the pioneer in real-time store execution and workforce management solutions that enable retailers to execute their customer engagement strategy flawlessly and uncover profit. The Reflexis platform of real-time store execution, task management, KPI/compliance, time and attendance, and labor scheduling (including budgeting, forecasting, and employee self-service) enables retailers to align store labor/activities to corporate goals and institutionalize best-practice response to real-time metrics and alerts.
For the past 15 years, more than 200 of the world's best companies in multiple vertical categories such as retail, hospitality, and Quick Serve Restaurants have reported dramatic improvements in compliance with corporate strategies; higher productivity of corporate, field, and store employees; and increased revenue and profitability after implementing Reflexis workforce management and real-time store operations solutions. Reflexis StorePulse® (patent pending) synchronizes activities with real-time KPIs, alerts, and customer demand. Stores, hotels, and restaurants can systemically implement best practices to provide a greater quality of customer engagement, leading to higher revenues.
Reflexis Systems, Inc. is privately held and headquartered in Dedham, Massachusetts and has offices in Atlanta, London, Germany, and India, with additional sales offices in Latin America and Europe. For more information, visit http://www.reflexisinc.com.
To keep up with Reflexis, follow us on LinkedIn, Facebook, Twitter, YouTube, and Google+.