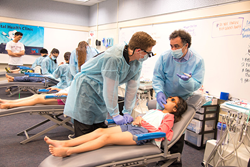 Pomona, California (PRWEB) December 02, 2016
Halfway through its partnership with First 5 LA, Western University of Health Sciences' College of Dental Medicine has provided preventative dental services to more than 15,900 children 5 years old and younger and treatment services to more than 9,100 of these children.
First 5 LA pledged $38 million over a span of five years to Western University of Health Sciences, UCLA and USC, beginning March 1, 2013, to address access to oral health care for Los Angeles County children. WesternU's College of Dental Medicine (CDM) is scheduled to receive about 22 percent of the funding for the Children's Dental Care Project.
First 5 LA is a unique child advocacy organization created by California voters to invest tobacco tax revenues in programs aimed at improving the lives of children in Los Angeles County. Since 1998, the program has invested more than $1.2 billion in efforts aimed at providing the best start for children from prenatal to age 5 and their families, according to First 5 LA's website, http://www.first5la.org/index.php?r=site/tag&id=3
The College of Dental Medicine welcomed its first students in August 2009. CDM is fortunate that First 5 LA came along early in the college's development, said College of Dental Medicine Dean Steven W. Friedrichsen, DDS.
"The College was developed with the intent of building a strong community-based education program. In advance of the award, we had already established a number of rotations, as well as the structure for school-based oral health care delivery. First 5 LA funding allowed us to scale those elements up fairly quickly and realize the benefits you can obtain from a school-based system," he said. "First 5 LA provided the capital investment and support for critically needed services in an effective delivery model for the 0-5 year old population."
The College of Dental Medicine created a multi-tiered plan for the project. CDM partnered with Women, Infant, and Children (WIC) and Head Start programs to provide families with oral health education, dental prevention, and referral sources. CDM created school-based oral health centers (SBOHCs) in partnership with the Pomona Unified and El Monte City school districts to provide comprehensive care and preventative education to children and their parents, including children referred from the WIC and Head Start programs.
"A primary goal of our Community-based Dental Education Curriculum is to train CDM students in a setting where they can relate to patients in a real-world treatment environment," Friedrichsen said. "It is crucial to cultivate dentists who are comfortable providing care in a community setting and working with patients from a variety of different backgrounds."
CDM provides free dental screenings to all Pomona Unified School District (PUSD) students in kindergarten and first grade, said PUSD Director of Health Services Mark Maine, PhD. The program has helped PUSD improve attendance rates at these grade levels, he said.
CDM also operates three SBOHCs in PUSD - at Palomares Academy of Health Sciences, at the Village@Indian Hill, and at Marshall Middle School.
"Last year CDM provided over 1,200 unique visits and more than 3,200 visits altogether," Maine said. "Students who participate in this program would not normally have access to dental care, and that access has enabled them to receive quality dental care in the form of fillings and other preventative care measures at our school sites. Thus, they do not miss school. In fact, they are able to leave class, have the dental procedure, and return to class in the same day. This has been a tremendous help to us. In addition, students finishing their dental visit are then referred for glasses and other health care services. Our relationship with WesternU goes well beyond just dental care, and is built around helping families be successful."
El Monte City School District initially opened two SBOHCs at Gidley and Durfee elementary schools, with additional funding from a Health Resources and Services Administration grant, said Mary C. Borja, RN, FNP, Health Services Chairperson and Family Nurse Practitioner for El Monte City School District.
"(CDM) developed a patient base - families enjoy the ease of children seen on site, and they receive good care," Borja said. "There are many stories over the last few years of children who may not have been able to receive care elsewhere. WesternU has been able to see them at Gidley, and many families developed a close relationship with the dentists there."
CDM's dental services in El Monte are now consolidated at the Jeff Seymour Family Center, which has five dental chairs. CDM also screens all El Monte City School District students in pre-kindergarten and kindergarten by visiting each campus.
"It's a chance for children to have a positive experience with a dentist. In past years, sometimes children became afraid because of what they had heard from their mother or father. They did not have a positive experience and were more fearful," Borja said. "With this dental screening exam, they receive a toothbrush and they enjoy it. Hopefully, they will maintain their dental care and will no longer be afraid."
Borja said she is happy to see student dentists venturing into the community.
"Private practice is great, but somehow working in the community prepares a dentist to be better at what he or she does, and cognizant of the community itself," she said. "I've been really impressed by the community feel, about serving and making a difference."